Souzãoberry Fields Forever: hang time with Portuguese grapes in Lodi
Of the mad scientist-viticulturist laboratory that is Lodi, California, we've touched upon southern French varieties; grapes classically grown in cooler areas of Europe like Germany and Austria; and Lodian odes to Spanish wines. We reached the part of the conference where we would end up on one of twenty-or-so different excursions – and to complete the circle of a trip, or at least extend the semi-circle or whatever – I eventually decided to go on the excursion that hinted at a visit to a winery with a heavy lean towards Portuguese grape varieties.
What the fuck is Souzão, anyways? Let's whip out a tome and read the following paragraph in our Jancis voices. (She is, by the way, in the running for being my Snatch Game impression if I'm ever on RuPaul's Drag Race.)
Souzão, or Vinhão, is a thick-skinned black grape variety that apparently may produce "the darkest wines in all of Portugal", according to Wine Grapes, with highly structured wines of mainly cherry and other forest fruits that give rise to the best reds from Portugal's Vinho Verde DOC. Though the pendulum swung towards white grape varieties in the 1950s, it seems that Vinhão is one of the main reds that is regrowing in popularity. It's unsurprising to learn that it's used to add colour and freshness in Douro blends, but it is interesting to note that its northwestern Iberian territory extends to Spain's Rías Baixas, Ribeiro, and Valderorras DOs.
A key vinous characteristic of Vern Vierra, winemaker at St. Jorge, is his fondness of hang time for his grapes, so tasting the voluptuous and concentrated dried fruit expressions of his wines certainly checks out. I opine that his best wines are the ones with inherent elevated acidity, since extended hang time and generous oak can generally be like an overly aggressive and monotonous Instagram filter – so I particularly enjoyed the Trincadeira, the Souzão, and the Touriga. But everyone knows I'm a slut for Touriga.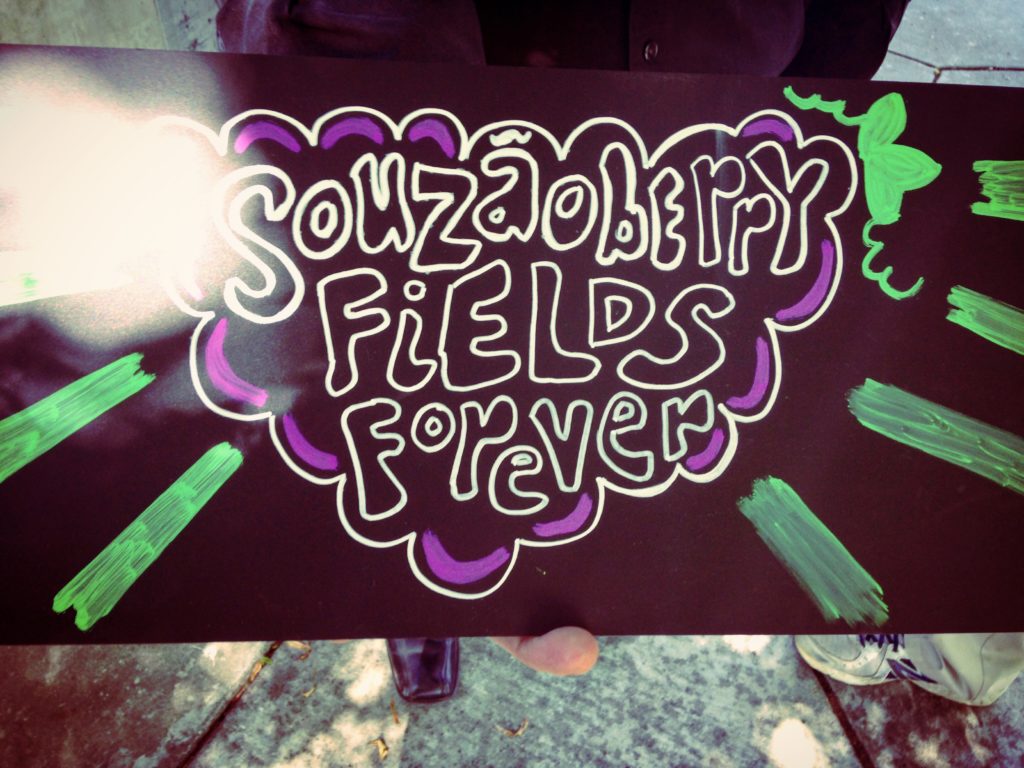 St. Jorge 2011 Verdelho Seco, Silvaspoons Vineyard (Lodi, California) Aug 2016.
Really flirty peach jelly, flower, mango, and a bit of banana. Not as exuberant on the palate as the sweeter version, but it's still as round and chewy but with a more mineral-driven ending. If I could mix-and-match, I'd take the nose of this wine and match it up with the palate of the next.
St. Jorge 2014 Verdelho, Vierra Estate (Lodi, California) Aug 2016.
Stays true to the svelte characteristics that I've seen Verdelho take in its varietal still form, with a heavy tilt of tropical fruit. It's deceivingly gentle on the nose, but the palate reveals a thick saccharine dance of green apple, banana, apricot, and pineapple. Really ripe and chewy but satisfying, and despite the moderate acid I still want to keep slurping on this. Apparently their best seller, and despite it being their entry-level, it's easy to see why.
St. Jorge 2011 Maria, Silvaspoons Vineyard (Lodi, California) Aug 2016.
Ode to a Madeira. The pale amber liquid emits toast, spice, caramel, and hints of maple and banana. There is an immediate sweetness, but an opponent of iron and coffee bitterness immediately jumps into the fray to fight against the sweetness, like a conflicted anti-hero. There's enough acid here to keep sips fresh, finishing in roasted almonds.
St. Jorge 2013 Sangiovese, Cosi Bella Vineyard (Lodi, California) Aug 2016.
Not at all the oft elegant and tart expression of Italy, but instead chocolate-covered black cherries, cola, and dried red fruit. Really dense with sweet fruit and soft texture.
St. Jorge 2013 Cabernet Sauvignon, Schmierer Vineyard (Lodi, California) Aug 2016.
Inky. Black fruit without much purity: a hint of cassis without being super precise. A hint of dried fruit and oak. Truly Cabernet Sauvignon on the palate with lots of cassis, a fuller body, coarse tannin, and high-ish acid.
St. Jorge 2013 Syrah, Lani's Vineyard (Lodi, California) Aug 2016.
Slightly purer dark fruit, with dark chocolate, oak, and dark flowers. Not too much definite varietal Syrah spice, though. Dry but with lots of sweet and dense fruit, high acid, and a dollop of ripe tannin.
St. Jorge 2013 Alicante Bouschet, Vierra Estate (Lodi, California) Aug 2016.
Appropriate for an Iberian theme: apparently this teinturier grape, with origins in France, is now gaining popularity in southern Portugal. Mildly purple-scented if that makes sense; grapey, for lack of a better word. A hint of caramel with dark fruit. Dry, moderately-structured and concentrated, adorned with dried flowers and precision to the finish. A hint of salt at the end.
St. Jorge 2014 Trincadeira, Vierra Estate (Lodi, California) Aug 2016.
Plenty of oak, dark fruit, something a hint animal-esque along with green pepper and blueberry. Though the wine is dry, there's some sweetish fruit that melds with the fullish and coarse texture, finishing with a bit of heat. Luckily, the acid is high. Molten and concentrated guilty pleasure.
St. Jorge 2015 Trincadeira Barrel Sample, Vierra Estate (Lodi, California) Aug 2016.
Dried fruit, but really spice-driven with ripeness and leather in the background. Lots of sweet black fruit and cloying black cherry lingering on the palate and chocolate. High acid, but relatively soft tannins.
St. Jorge 2013 Tempranillo, Vierra Estate (Lodi, California) Aug 2016.
Really deep black cherry note amongst the oak, with just a bit of tobacco character. Notably quite spicy on the palate with a hint of herbs. Pretty round and fine. Ashy ending.
St. Jorge 2014 Touriga, Vierra Estate (Lodi, California) Aug 2016.
Very exuberant on the nose, in a way that I haven't seen in the other reds so far! A kiss of bergamot and earl grey emerges amongst the black fruit. The ripe fruit is charming but not excessively cloying. Full and relaxed, then a twinkle of something saline on the tongue which adds lift. A fair amount of ripe tannin. Lots of finesse. Long.
St. Jorge 2014 Souzão, Vierra Estate (Lodi, California) Aug 2016.
Around 15% raisined. Really deep stuff, with images of coffee and chocolate in front of an inky background of dark fruit and oak. Though dry, there's a hint of sweet fruit, but the coarse tannin, high acid, and coffee flavours are ample counterweights. Really zingy (for some reason I wrote down that it had more zing than the Tempranillo)!
St. Jorge 2015 Zinfandel Barrel Sample, Mohr-Fry Vineyard (Lodi, California) Aug 2016.
Vibrant and spicy dark berry fruit. A hint of something raisined, and ending a little saline. Lots of ripe fruit, expression, and moderately coarse tannin.
St. Jorge 2011 Vinho Tinto Doce (Lodi, California) Aug 2016.
Heady with spice and dried fruit, though it's not too complex on the nose. It's sweet – but upon impact, a slow-forming spice forms in the mouth, followed by dried fruit, herbs, and ripe tannin structure.