Getting drunk-ish with Bokisch
Upon a first visit to the area, I'm not surprised that Lodi's land is as flat as my love life oft is, because, perhaps unfairly, I expected the mainstream homeland of Zinfandel to be just that. Zing.
For real, though: we arrive at Bokisch, which from what I remember at the time, had more slopes than I remember in all of Lodi – and then a big oak tree located in the middle of some vineyards that was so prominent that "giant oak" was literally listed in our prepared itinerary, under which we would have a lunch, themed northeastern Spain. Barcelona flashbacks. There may have been a flying wine camera drone but anything could've happened at this point.
Like our lunch, the wines of Bokisch focus on Spanish grape varieties – another spellbinding sector of Lodi's experimental temperament, like the German grape varieties grown in Lodi that we had tried earlier. Markus Bokisch, owner and winemaker, draws inspiration from his Spanish background.
About the tree: the tree was so significant that I happened to bump into a quasi-random person at the Family Winemakers Tasting in San Francisco a week or so after the conference and we bonded over said tree. For reference, the last time I bonded with a tree was when I accidentally dropped heavy IKEA wooden planks down the stairs. Or was it the time I drank an entire of oaken gin? Either way, you probably shouldn't ask me to move furniture.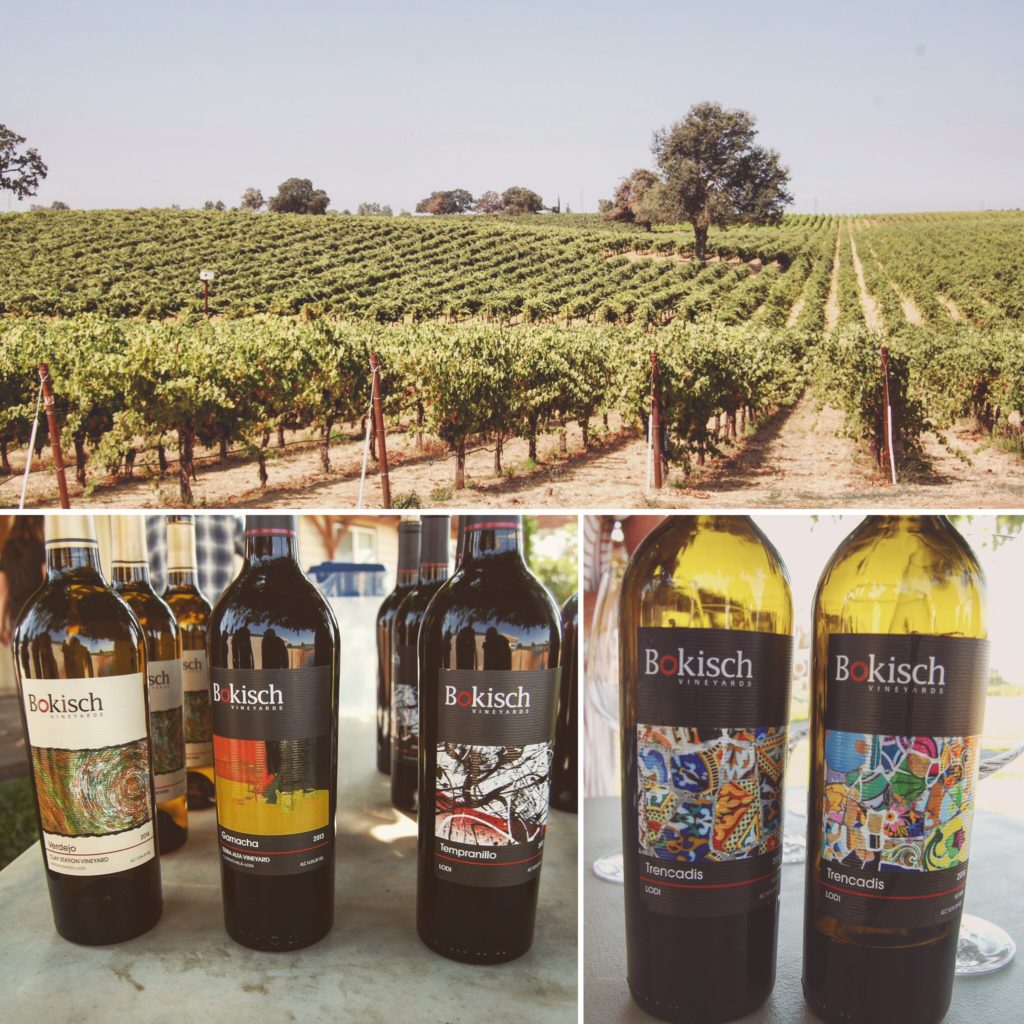 Bokisch 2014 Albariño, Las Cerezas Vineyard (Mokelumne River, Lodi, California) Aug 2016.
Peaches and cream, and maybe bordering on apricot yoghurt. It's less friendly and more gripping on the palate, with immediate acidity that also reveals tangerine zest and herbs. Not as wholly charming as its Old World counterparts, but the personality of this wine is pleasantly legit.
Bokisch 2013 Graciano (Lodi, California) Aug 2016.
A hint of banana amongst the mellow and leathery black fruit. Grapey, for lack of a better word. Crystallized black fruit on the palate, and then a spicy and minerally response. The sweet black fruit hits the perfect spot, the moderate structure providing ample resistance.
Bokisch 2014 Verdejo, Clay Station Vineyard (Borden Ranch, Lodi, California) Aug 2016.
Dusty pear on the nose with musky minerality. Not totally full of energy on the nose, but there's more ripe fruit on the palate along with pear and banana, and then a savoury grip on the palate that almost seems like there's a bit of tannin. Indeed, we find out that there is skin contact!
Bokisch 2013 Garnacha, Terra Alta Vineyard (Clements Hills, Lodi, California) Aug 2016.
Spicy strawberry ham and raspberry fruit on the nose which transforms into strawberry Fruit Roll-Ups on the palate. Almost insisting fruitiness on the palate with a hint of meatiness. Thank goodness for the acid. Soft tannins. Fun stuff!
Bokisch 2013 Tempranillo (Lodi, California) Aug 2016.
Rather gentle nose of red currant and maybe something like Nibs, along with tobacco and cigarette ash. Pretty fresh and earthy on the palate held together with some dusty tannin.
Bokisch 2014 Trencadis (Lodi, California) Aug 2016.
A blend of Tempranillo, Monastrell, Graciano, and Petit Verdot. A scrumptious mix of cola, dried red fruit, meat, leather, heady spice, and something slightly floral. Full and ripe.
Bokisch 2014 Monastrell, Belle Colline Vineyard (Clements Hills, Lodi, California) Aug 2016.
A heady darkness of cola, a hint of smoke, ash, and black cherry. Full and fruity, but also soft and unwound.