Barcelona: Cava to end the Saga
Spoiler alert: my few days in Spain were better than my two and a half weeks in France. Sorry, France. I was rooting for you, we were all rooting for you. #BeQuietTiffany
Our hostel was superior to the one in Paris: Erin and I helped cook dinner one night, we met a Canadian from Edmonton, and we made a cab driver go through McDonalds after a hostel-hosted bar-hopping session that eventually ended on a club next to a beach. And then drinking on said beach, which was a reaaaaal big blur. Have you ever drunkenly told someone they look like Ygritte from Game of Thrones way too many times?
There's a story later that night involving myself ejecting the Devil's Liquids from my soul, but let's just summarize here and say that I fucking covered that up better than all of the Desperate Housewives would have, combined. I'm smarter in Spain, you guys. Someone write a song about this.
Cue irritating photo montage.
After some city exploring, there was La Rambla the next day, and a sad attempt at crossed fingers only to discover that the market we wanted to explore was closed. But we went to the beach with new friends before rushing back to the hostel to gently degrease ourselves, and then we headed to some music festival thing called Brunch Elektronik. If you ever think that a jug of Sangria per person seems like a good idea, it isn't. Also, I stole a cup as a souvenir. I now have the ability to drink water and then subsequently stare into the distance and remember the time I vaguely swayed with a thousand Spanish people who were all cooler than me.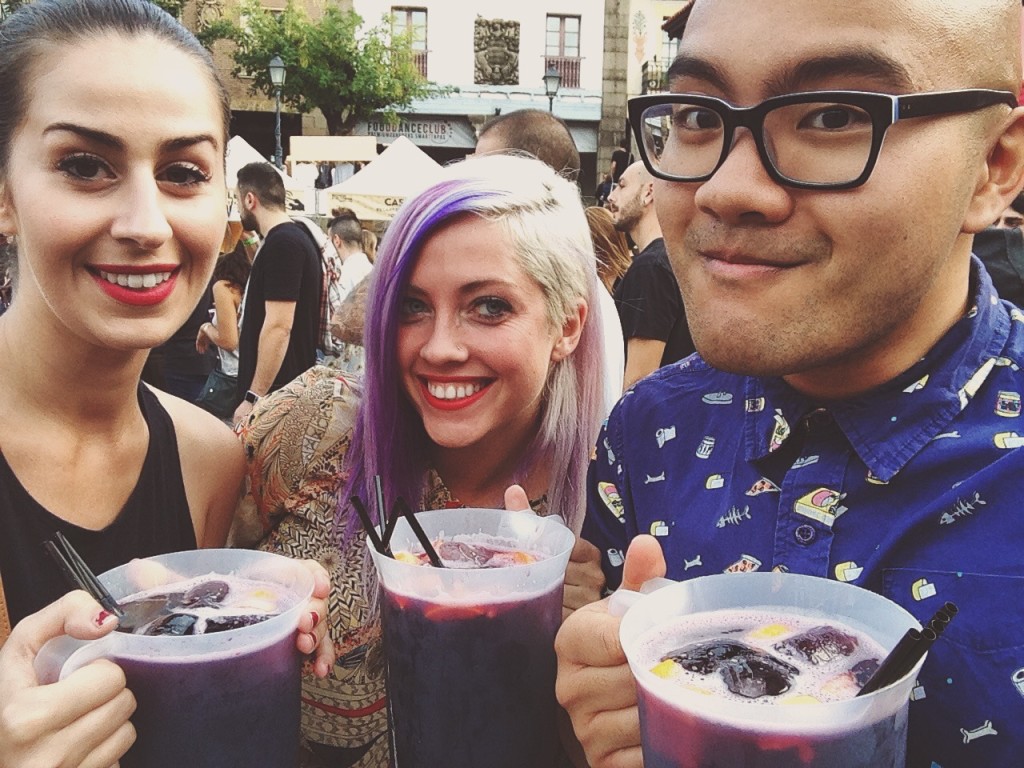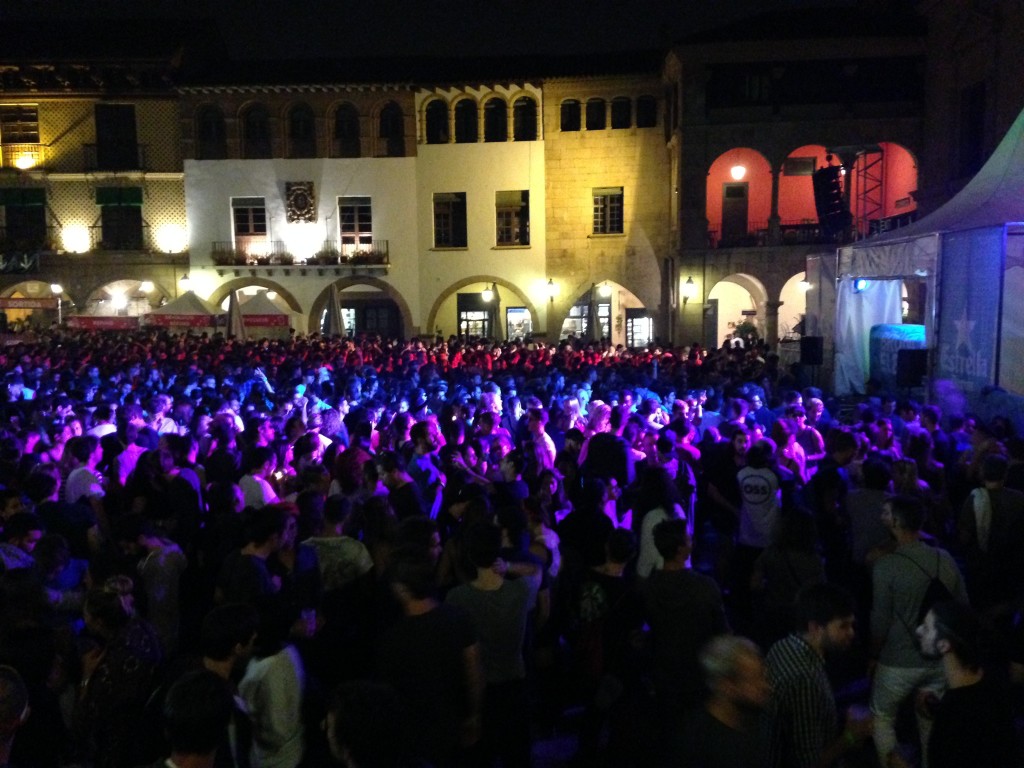 Also, this brilliant moment at the magic fountain:
"Like, I'm wowed and everything, but I think I'm over it."
"…it hasn't started yet."
We went to Sagrada Familia the next day, which was a mathematical-artistic dream, followed by a brilliant rendezvous with a new friend involving mojitos, Bjork, and eggplant hummus. And then more mojitos and eventually a mannequin head sporting a pink wig. How you can click so well and have a bucketload of mirrored interests and philosophies as someone around the world – and who was born literally a month later than you – is straight up fucked. Or expected – or maybe just coincidental. I swear that my metro ride came packaged with lens flare via morning sun and some anthemic bullshit soundtrack like this, and then cue the rolling credits.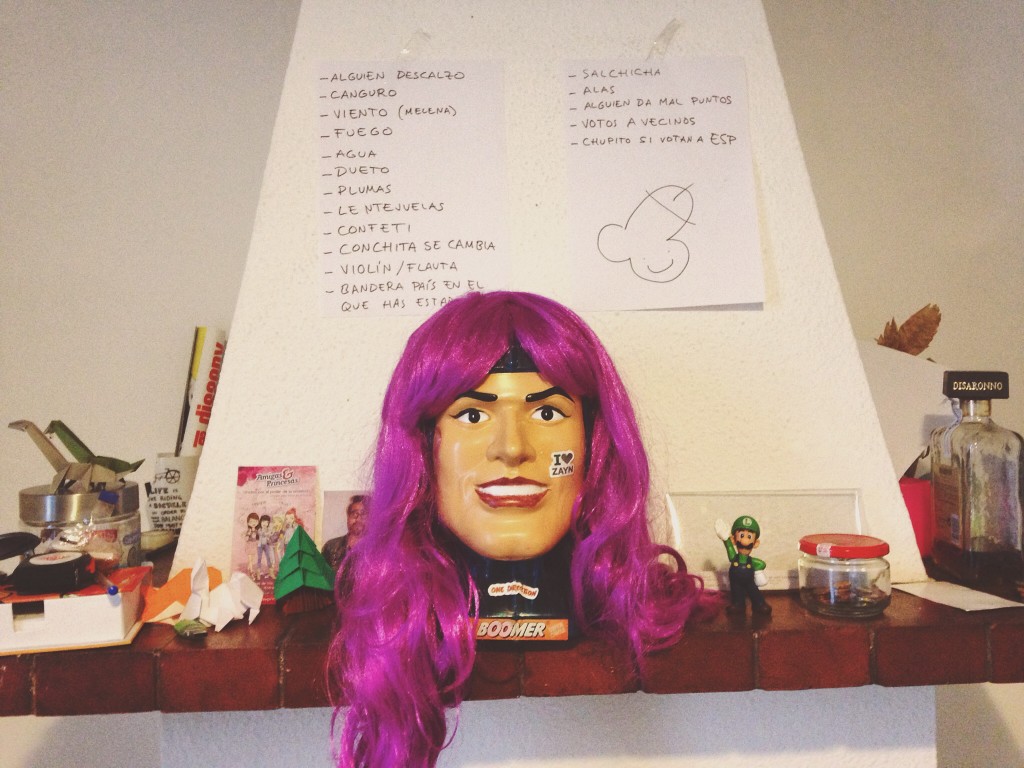 But in the Disney movie special that is my life, there is a fun denouement involving an hour-long train to Sant Sadurni d'Anoia (seriously, you guys, I'm surprising myself with my decent sense of direction here) to meet with Francesc Escala of La Vida al Camp. And so we got excited about soil types, had sparkling rosé next to a vineyard, walked through cellars, and then had a Catalan lunch with more wine. Just when you thought I couldn't be any more inadequate, I discover that I suck at a simple thing like rubbing tomatoes on bread.
Francesc gave us some things later to do that night, almost like a fun militant to-do list of places to hit up before our flight the next morning. Ended up nodding off at a bar with the weirdest wines. 8-year-old Gavi? Xarel-lo in amphora? Yes. Bye. Sí.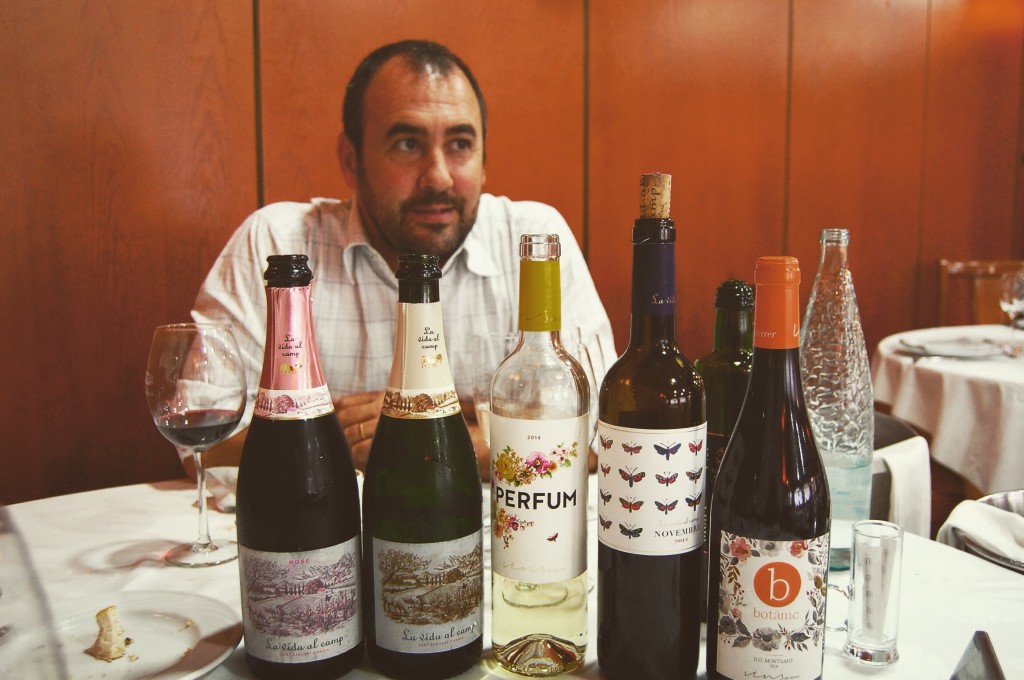 I was supposed to be ready to go home after the rainy disorder of the incongruent Champagne, but Barcelona drew me back in. That's not what we planned, Europe! I could have easily spent more time here. I'm so tired by the end of this thing that I sob during both Frozen and Ant-Man on the plane home, and then fall asleep in the middle of A Year in Champagne, perhaps softly signalling an end of this whole pseudo-epic. The incessant seat-kicking by the child behind me was exactly what I needed to snap me out of this abiding spell.
Our plane was delayed because someone wanted to get off the plane after we had all seated ourselves. Rachel?!
Anyways, here's a video recap of Barcelona.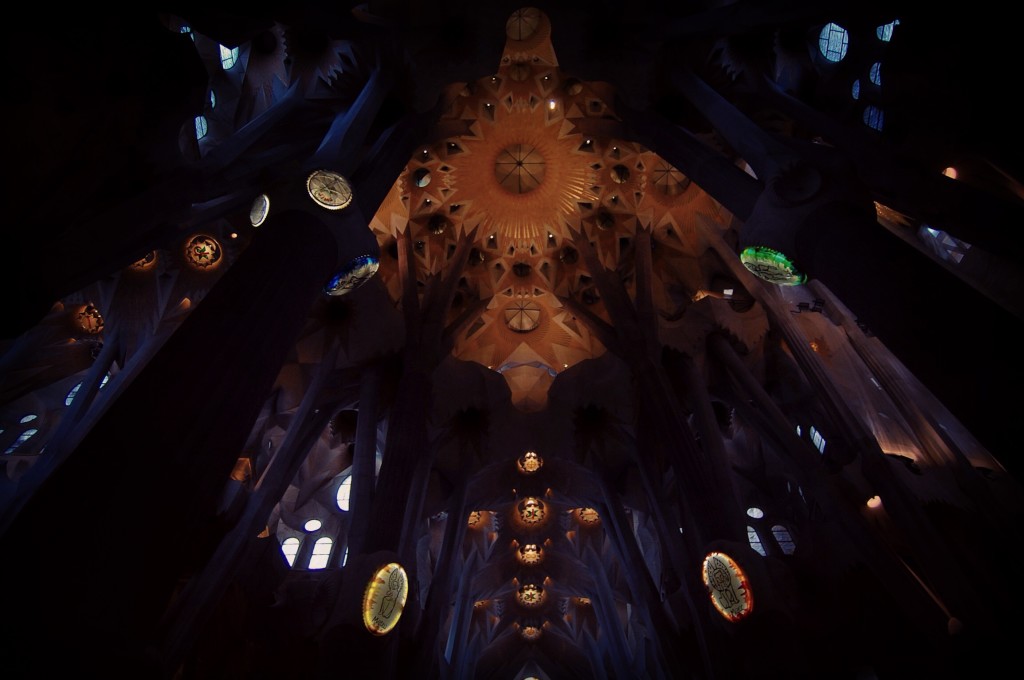 La Vida al Camp Cava Brut Rosé (Sant Sadurni d'Anoia, Penedes, Catalunya, Spain) $35
Macabeo (45%), Xarel-lo (40%), and Trepat (10%). Barely pink. I would describe its character as subtly melodious and primly complete, with pomaceous fruit, fresh white cherry, and bits of strawberry. The mousse is soft, delicate, and persistent. Mineral finish.
La Vida al Camp 2014 "Perfum" (Penedès, Catalunya, Spain)
Moscatel de grano menudo (55%) and Macabeo (45%). Orange blossom, green mango, orange jelly, and apricot. Dry and fruit-forward, but demure and bright enough to keep things fresh and interesting. Punchy hints of peach pith on the finish. Jovial and lovely.
La Vida al Camp Cava Brut (Sant Sadurni d'Anoia, Penedes, Catalunya, Spain) $32
Macabeo (45%), Xarel-lo (45%), and Parellada (10%). Elegant. An expression of intense lime and pomaceous fruit somewhere in between freshly-cut and bruised, along with hints of earth, yeast, and white bread. Lots of lime, apple skin, yeast, earth, and a ribbon of minerality on the palate. All about that elegant vibe and persistent mousse on this one.
La Vida al Camp 2013 "Novembre" (Penedès?, Catalunya, Spain)
50% Ull de Llebre (i.e. Tempranillo), 25% Garnatxa, and 25% Samso (i.e. Carinena). Super cool label! Minimal ageing in oak to preserve fruit flavours. Heady, plummy, and seductive without being jammy. Lots of dark flowers, blueberries, whispers of game, and hints of dark chocolate. On the fuller side with similar flavour echoes on the palate. Mouth-coating but finessed; large but soft.
La Vida al Camp 2014 "Botanic" Montsant (Montsant, Catalunya, Spain)
Garnatxa and Carinyena. Dark chocolate, dark fruits, dried violets, smoke, earth, licorice, and a bit of cheese. Full and plush with a hint of saline and meat, along with the floral and dark berry flavours we found on the nose. Chalky and warming with more flowers on the finish. Sultry, soft, and villainous. Angelina Jolie as Maleficent.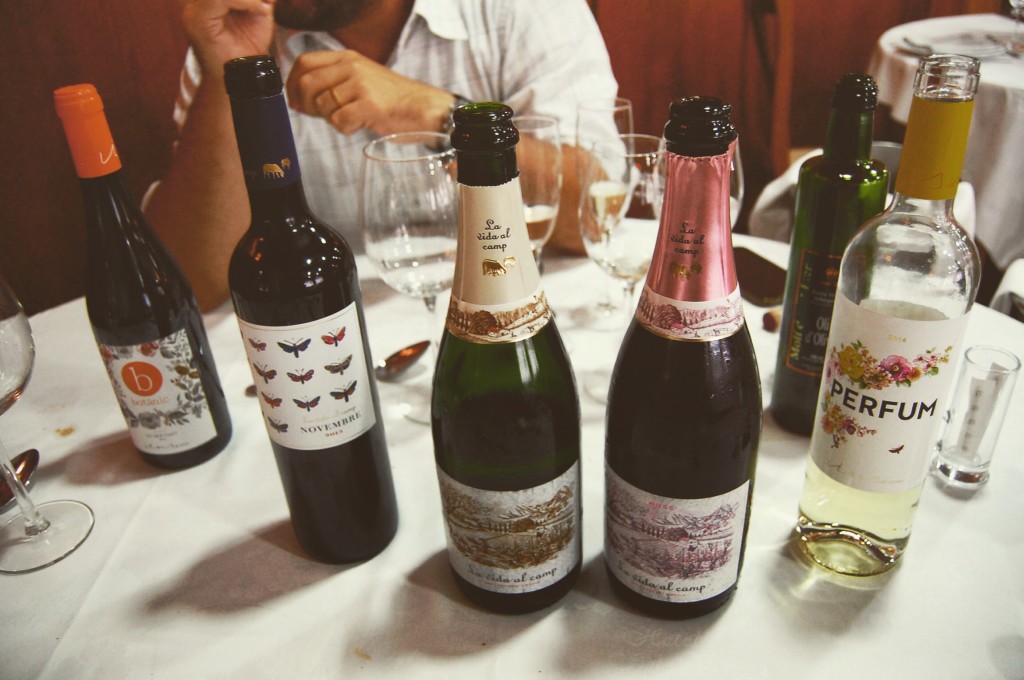 Recaredo 2011 "Intens Rosat" Cava Brut Nature Gran Reserva (Cava, Spain)
Deep pink. Pinot Noir (41%), Monastrell (41%), and Garnatxa (18%). Fresh juicy sliced cherries that end almost like fruit roll ups. Rich and balanced with a bitter seed character; softly spiky and almost red in character. The most mouth-filling and full Cava I've ever tasted.
Can Ramon Clos Lentiscus 2014 "Perill Blanc Àmfora" (Garraf, Penedès, Catalunya, Spain)
Xarel-lo. White peach pit, vague nectarine, and flowers all run over by rubber tired on asphalt and clay after rain. Bordering on off-dry with electric salted twinkling texture despite an also creamy texture that grades into intense petrichor.
Domaine Rietsch 2014 Sylvaner (Alsace, France)
Mittelbergheim. Nectarine, hints of cashew, cider, bits of decaying leaves, mineral, and fruity cigarettes. Echoed on the palate with more nuttiness and medium-bodied grippy savouriness.
Cascina degli Ulivi 2007 "Filagnotti" Gavi (Gavi, Piedmont, Italy)
Almond paste, marzipan, dried lemon peel. Dry but mouth-coating, nutty, and oxidative. Slight grip adding closure to the lemon tea flavour and long fleshy bitter almond.