A pink Rubik's Cube: NV Louis Bouillot Crémant de Bourgogne "Perle d'Aurore" Rosé
Tasting Note:
Eyes: clear, pale salmon, bubbles
Nose: clean, med- intensity, youthful, mineral, dried red fruit, hint strawberry, hint raspberry, hint of yeast, hint herbaceous
Mouth: dry, creamy mousse, med+ acid, med- body, med- alcohol, med flavour intensity, mineral, dried red fruit, strawberry, cherry, med length, mineral finish
All in all: Good quality: though the sparkling rosé has elegant balance and finesse, the flavours lack a bit of focus and intensity. Drink now, not suitable for ageing.
Identity Guess: Mid-priced Non-Vintage Crémant Rosé from Bourgogne, France.
Is really: Mid-priced Non-Vintage Crémant Rosé from Bourgogne, France.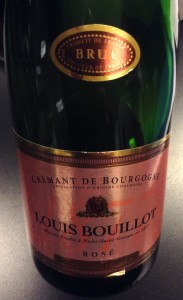 [Tasted during WSET Diploma class – Section 2 – Week 5]
I am way too harsh with traditional method sparkling rosés. My eyebrows were raised and my lips were pursed as soon as I saw the pale salmon poured from the bottle, and I gave it a sniff with a confirmed nod. Yes, I am that asshole (with traditional method sparkling rosés), and I've always been wary of them ever since my first exposure. I'm watching you, TMSRs!
(This reminded me a lot of the NV Lugny Crémant de Bourgogne Rosé, and I thought it was at first. Hence the guess.)
I may have mentioned it in a previous post, but traditionally-made sparkling rosé is a bit of a liquid sphinx. Phenolics from red grape skins somehow cancel out the majority of toasty autolytic character (even if just a small portion of the cuvée), and you're left with the replacement delicate red fruit notes, some of the typical pomaceous fruit, the creamy mousse, and austere structure. But combine this with the fact that producers sometimes struggle to be consistent with colour and style every year, and it almost doesn't make sense to me that top dollar goes to something so non-autolytic and relatively delicate and light like rosé Champagne. On one point, it sort of makes sense because alternatives can really be ferocious, with the cherry and cranberry-scented rosé Cavas that might don brutish bubbles and sometimes less balance to boot. So rosé Champagnes do intrigue me the most (as do the people that drink them more regularly than the common peasant, like me), but then again, I guess that's where the better-valued rosé Crémants come in.
I suppose I'm not being fair to the light and feathery still wines of the world that also command dolla billz, like the delicious Chablis and Sancerre of the world, but I do think that Chablis and Sancerre can more often be done with concentration and tacit vigour, where I've run into some sparkling rosés where strength only lies in the easy and quick-dissipating mousse which doesn't live for very long. I have yet to taste a rosé Champagne that really sweeps me off my feet with anything more than light featheriness.
That being said, the instructor stated that some rosé Crémants can easily be confused with that of the Champagne variety and also empathized with those who guessed this as rosé Champagne.
This was slightly more intense than the Lugny rosé, though maybe I was too harsh with the Lugny to begin with. There was a feathery finesse to the wine, and though the palate was a bit more intense than the nose, I felt like there was still a lack in focus and intensity throughout. But it grew on me slightly.
Producer: Louis Bouillot
Designation: Perle d'Aurore
Region: France
Sub-Region: Burgundy
Variety: Pinot Noir (90%), Gamay (10%) – according to Tom Stevenson's World Encyclopedia of Champagne & Sparkling Wine
ABV: 12%
Vintage: NV
Tasted: February 5, 2014
Price: $27