Karen Smith from "Mean Girls": NV Cave de Lugny Crémant de Bourgogne Brut Rosé
Tasting Note:
Eyes: clear, pale orange, bubbles
Nose: clean, light intensity, youthful, mineral, citrus, light red fruit, hint yeastiness
Mouth: dry, med body, med acid, med- alcohol, med- flavour intensity, med length, mineral, citrus, light red fruit, savoury + stony finish
All in all: (Acceptable to) good quality: the wine is balanced in structure and mouthfeel, but there is a lack in fruit, concentration, and flavour intensity. Drink now; not suitable for ageing.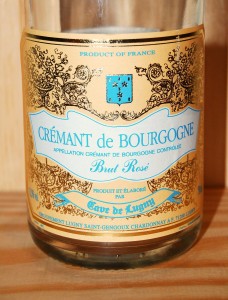 (Disclaimer: after some thought, perhaps I am too hard on sparkling rosés…?)
I had to choose between this and cheap Cava tonight, and this won. I've been dying to retry wines that I've had further back in my wine education (especially if it was more than a year ago) just to see whether or not my palate is consistent, and whether or not I pick up on the same notes. Obviously I knew less things about wine back then, so it's interesting to compare that disconnect.
You know the crowd who likes Yellowtail? This wine almost exemplifies the extreme opposite. Whereas the Yellowtail crowd enjoys the confected and overripe fruit that the brand produces (not that there's anything wrong with that!), this wine is almost devoid of any real character, hardly even exuding any minerality. The palate is the same, but displays a bit of savoury character that draws out the finish. I'm mostly surprised that I've deemed this as "very good quality" in the past, even comparing it to having some rosé Champagne similarities. And it made sense, because people loved this, and they still do.
The last time I've had this, I also called everything more intense than it was. The aromas and flavours are really hard to look for in this wine, and the strength definitely lies in the structure. The bubbles are mouth-filling (yet just a touch abrasive), the wine has a juicy + savoury minerality, and there's an evident bit of dosage the rounds out the palate even more. Otherwise – flawed bottle? Improper storage? Bottle variation?  Beautiful label, but there's really nothing there, like Karen Smith from "Mean Girls".
It shocked me when I read that Tom Stevenson (in the new edition of the World Encyclopedia of Champagne & Sparkling Wine) rated this particular winery with a mere average of 70 points (= "the point at which any sparkling wine other than Champagne starts to become interesting"), describing Lugny's wines as generally "fruit driven, but all too often it is just the aroma that is fruity, and the wines lack fruit and finesse on the palate". It's disheartens me to say that I understand why he says this, but at the same time, it's an interesting example of how that might not even matter in practice. Just like how Yellowtail sold despite the cries of the wine aficionados, I would say without a doubt that this particular wine is one of the best-selling of its kind in the store. People favour its dryness, structure, and simplicity. Literally almost everyone who buys this, loves this. I'm kind of scared now.
I'm really hoping that this was just a flawed bottle, though. Still getting drunk on it regardless.
Producer: Cave de Lugny
Designation: Brut Rosé
Region: France
Sub-Region: Burgundy
Variety: Chardonnay, Pinot Noir, Gamay
ABV: 12%
Vintage: NV
Tasted: December 22, 2013
Price: $27