NV Lugny Rosé Crémant de Bourgogne
Tasting Notes:
Eyes: clear, pale orange, bubbles
Nose: clean, pronounced, youthful, yeastiness, light strawberry/watermelon notes
Mouth: dry, med body (delicate bubbles), med acid, med+ length, med- alcohol, med intensity
All in all: Very good quality; drink now.
Tasted against the NV Duval-Leroy Brut Rosé Champagne.
This taste comparison was obviously set up to show the differences between a rosé Crémant and a rosé Champagne. Disappointingly enough, it was hard to pick up those definitive toasty notes in one of these wines and not the other. Amusingly enough, what this comparison showed was the potential for great Crémants to exist, something which is apparently not a common thing. Plenty of delicate bubbles, and there was some stinky yeastiness on the nose, along with some light red fruit notes. At face value, this is not an orgasmic wine, but compared to the Champagne, this stole the show – though it's entirely possible that the wines chosen were simply uneven examples of what they actually are.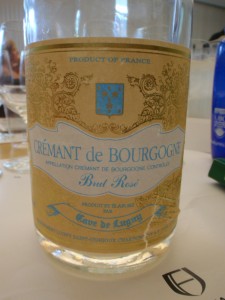 For those who don't know – in a nutshell, Crémants are French sparkling wines made in the traditional method but are made outside of the Champagne area – therefore, they can get those signature toasty and bready notes one would typically find in Champagne, especially when made with Chardonnay and Pinot Noir – though with Crémants, the varietals used vary according to the appellations, and Crémants can often be lacklustre.
But yes – it was hard to find the difference between the two wines (perhaps the non-vintageness of the Champagne?) If you're looking for something fun and pink and good quality, go for this. And if you're so insistent on bread notes, bake some bread in the background, or you can pay the extra hundred dollars. Not to say that I'd deny a glass of Champagne, though.
Producer: Lugny
Designation: Brut Rosé
Region: France
Sub-Region: Burgundy
Variety: Chardonnay, Pinot Noir, Gamay
ABV: 12%
Vintage: NV
Tasted: June 11, 2012
Price: $27