I NEED A BIGGER KNIFE. (UBC Wine Tasting Sesh #2)
Long-ass day. Doesn't seem so bad in retrospect, but I woke up early for a 9AM thing at UBC, took the 99 to the last stop for work, and then needed to travel all the way back to UBC to lead Part 2 of the sort-of-intro-to-wine themed tasting, all while wearing pants that weren't jeans, one of those shirts you'd hate to spill wine on, and shoes that didn't fit just enough to make my feet cry. The garb was fitting for all of the day's events but for this day in particular, I would defs have lead a wine tasting wearing nothing but seven layers of random comfortable 7-foot-long linens, cinnamon-bun-Homer-Simpson style. I was that uncomfortable (ugh rain + sickness). Except I've watched enough Project Runway to know that I'd be judged by someone with a German accent. Walk of shame out of the room from elimination. America's Next Top Wine Tasting?
For this tasting we tried a French Sauvignon Blanc, an Argentinian Syrah, a Rosé Crémant from Burgundy, and an Italian Brachetto. The former two because they were the noble grapes we hadn't discussed yet, and the latter two because they were fun and why not.
Along with that whole idea of matching up grape varieties with personalities: Sauvignon Blanc reminds me of an outdoorsy person, and Syrah/Shiraz, the mysterious one. These are probably one of my more fitting comparisons, seeing as Sauvignon Blanc typically has grassy and citrus notes, while Syrah can have red fruit, black fruit, but with a common touch of smokiness or black pepper. Back when one of my best friends bought me a bottle of Syrah for my birthday, I decided to write my first tasting note, knowing jack shit about wine. One of the first things I wrote was "campfire", which I learned wasn't totally off. Sauvignon Blanc, while seemingly specific in its characteristics, can definitely vary in character. Razor sharp and mineral-driven versions can be found in the Loire (which I call home to the hipster grape varieties in France), along with mellower versions around Bordeaux, some of which bridge the Old World-New World styles. New Zealand and Chile are examples of notable and amazing regions in which Sauv Blanc can be produced in that aromatic, grassy, and outgoing style opposed to the more elegant and almost furtive style of the Old World. Generally a great seafood pairing, for sure.
Other things that happened (and which you should feel bad for missing out on) included me eventually succeeding at sabring a bottle of Crémant (hence the title), some kind of grape-eating game, and a push-up contest. It was fun, but I'm not even sure if most of that happened and perhaps the alcohol and long day combined to give me Freudian hallucinations. (Oh well.)
1) 2011 Domaine des Grachies Côtes de Gascogne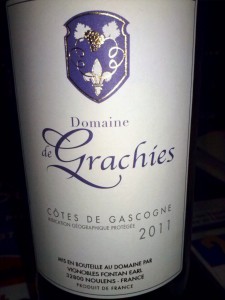 Okay, so I lied. This wine is not Sauv Blanc dominated but has other grapes like Colombard and Ugni Blanc, both which provide body and a fruitiness that is reminiscent of a New World wine but still made in that Old World style. Dry, medium-bodied, medium+ acidity, and aromas of grapefruit, citrus, and someone else pointed out that they got pineapple, which is normally weird to get out of Sauvignon Blanc but not out of the question because of the random slosh of grapes thrown into this wine. I also heard honey which I totally see as well. I can see this going well with seafood, but I can also see this going well with a failed midterm and a subpar subsequent pep talk. 15 buckaroos is good for this wine.
2) 2011 Alamos Syrah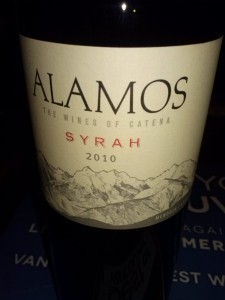 This was an interesting one. Definitely fruitier than I expected, but still had that Syrah smokiness. Common descriptors included raspberry, black cherry, and coffee, all which I was proud to hear. Definitely bridges the Old World-New World style much in the same way that the first wine does. Dry, medium-bodied, medium to medium+ acidity, medium tannins. I think. Meatier for sure – I wish the length was a bit longer on this, but otherwise this ain't bad for 17 bones.
3) NV Lugny Rosé Crémant de Bourgogne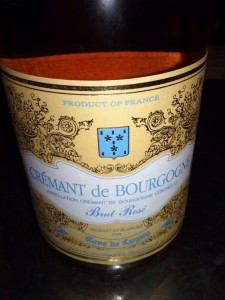 I'm known at work for being a rosé-hater. Confession: I don't know – when I want a rosé – I do, more than half the wine, want a fruity rosé, and not that savoury shit you get out of most serious rosés like this one. I can't help it – to me, pink shouts fun and almost into that  off-dry territory, and I psychologically expect that. That being said, this wine super good for its category, and had great light red fruit notes along with that savoury and long finish. Also, this was the point in time where I started paying less and less attention to tasting notes. 27 dollars and very French. Great bubbs. Fantastic value for celebration.
4) NV Toso Brachetto d'Acqui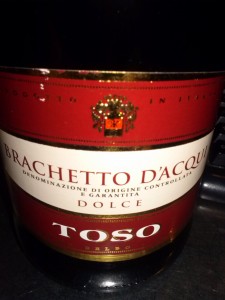 This was a popular one. Sparkling sweet red – lower in alcohol, probably as a result of an interrupted fermentation (or maybe the Asti method). Quite similar to Moscato with a red fruit kick – almost similar to Lambrusco (in theory – I've never had one). Things I heard included strawberries, raspberries, cranberry juice, and raisins. So yeah – basically red sweet fruit on the nose and that dried jammy fruit character on the palate, especially on the finish. Medium-sweet to sweet and medium-bodied, but had a rather low acidity which was thankfully uplifted by some of the sparkle to prevent that cloying character. Quite popular with the group and it's weird to see the huge general contrast in tastes to people that I serve at the wine store. 20 bucks.
But yeah! That's it for this tasting. For the next session, we're trying wines that pair with a zombie apocalypse.