NV Duval-Leroy Brut Rosé Champagne
Tasting Notes:
Eyes: clear, pale orange, bubbles
Nose: clean, pronounced, developing, more ripe fruit, bready, red fruit (strawberry), smokey/mineral
Mouth: dry, med to med+ body, med+ acid, long length, med+ intensity, med- alcohol
All in all: Very good quality; drink now, but has potential for ageing.
Tasted against the NV Lugny Rosé Crémant de Bourgogne.
I'm not going to deny a glass of (rosé) Champagne. Because number 1: that would be stupid; number 2: rarely do you get that chance unless you're rich as balls; and number 3: it's really an experience in itself, no matter how ephemeral. And the pinkness makes it more interesting.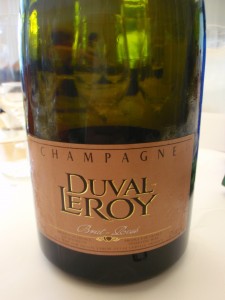 And yes – I do admit that the differences between this and the Crémant were almost indistinguishable unless you *really* stuck your nose in there and got a real sense of the characters of the wines – but perhaps the non-vintageness of the wine was at fault. I *do* admit that this wine wins in terms of the complexity. The yeastiness is barely above a notch in intensity, but the riper fruit matches the liveliness and effervescence of a rosé Champagne. I also did note the higher intensity on the palate, which was nicer. The bubbles were more aggressive, but the temperature of the bottles may have been wonky.
Although this wine is more complex, the rosé Crémant wins in terms of QPR. You just can't beat that.
Producer: Duval-Leroy
Designation: Brut Rosé
Region: France
Sub-Region: Champagne
Variety: Pinot Noir
ABV: 12%
Vintage: NV
Tasted: June 11, 2012
Price: $119