"Flaws (Live Acoustic Version)" – Bastille: NV Domaine Breton "La Dilettante" Vouvray Brut
Tasting Note:
Eyes: clear, med- lemon, bubbles
Nose: clean, med intensity, developing, mineral, citrus, hint herbaceous, lemon, lime, citrus zest, white bread, slight toast, mushroom, wet wool
Mouth: dry, creamy mousse, med+ acid, med- body, med- alcohol, med+ flavour intensity, mineral, lemon, lime, citrus zest, lees, savoury, mushroom, wet wool
All in all: Good (to very good) quality: the wine is well-balanced and has a relatively long length. Though not being very intense in its fruit, the Chenin Blanc character comes through with lovely earthy mushroom and wet wool aromas and flavours. Drink now, not suitable for ageing.
Identity Guess: High-priced Vouvray Brut from Loire, France.
Is really: High-priced Vouvray Brut from Loire, France.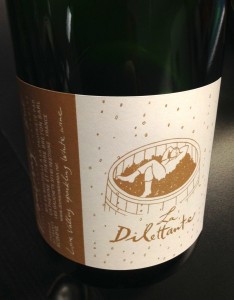 [Tasted during WSET Diploma class – Section 2 – Week 5]
Last week's version of this wine was corked so this was secretly slipped into today's set of wines. I've also tried this a year and a half ago in WSET Advanced class, so it's always nice to taste wines with a different mouth.
Ah. A bit of a contrast to the last wine in the flight which was the quintessential apple and pear-dominated Prosecco. This, on the other hand, had a marked mineral quality which sung more guitar arpeggios than guitar power chords. Further sniffs led me to conclude that it was undeniably very Chenin Blanc. It reminded me of a young and dry Savennières I had just the previous day, where the nose was all mushroom and wet wool with maybe some citrus, quince, and other pomaceous fruit in the background. Waaaaay into the background.
This is definitely not your fruit-driven sparkling, and not even your autolysis-driven traditional sparkling. Though there is some yeasty complexity, you really do get that earthy mineral-dominated character which might be hard to translate into words at first, as it was for myself back when I tried this wine for the first time.
Chenin Blanc is definitely one of my favourite wine grapes because it has such an anomalous range, and hardly does anyone ever expect liquid sparkling wet wool and mushrooms – and then enjoy it. It's almost "off", like how Oz Clarke describes some superb Pinot Gris being idiosyncratically "off": blemished in an unexpectedly pleasant way, so it's natural that this should pair with a song about flaws.
Producer: Domaine Breton
Designation: "La Dilettante", Brut
Region: France
Sub-Region: Vouvray, Touraine, Loire
Variety: Chenin Blanc
ABV: 12%
Vintage: NV
Tasted: February 5, 2014
Price: $39