NV Breton Vouvray "La Dilettante" Crémant de Loire
Tasting Notes:
Eyes: clear, pale lemon
Nose: clean, med+ intensity, developing, lots of mineral, reserved fruit, touch of yeast, bitter edge, green apple
Mouth: dry, med bodied, med+ acid, med length
All in all: Good to very good quality; drink now, but has potential for ageing.
So basically everything that was tasted during the latter half of this day was rushed, which resulting in the shittiest, most rushed (and incomplete) tasting notes ever (so messy that I can't even read them). All due to the fact that our exam was right after our sparklings, anyways.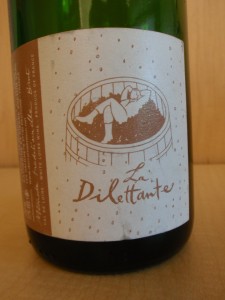 I'm slightly disappointed I didn't write more about this wine! In theory it's interesting:
1) Having the "Vouvray" sub-region designation, we know that it's 100% Chenin Blanc, which is my favourite white grape (for now, anyways).
2) The "Crémant" designation means that its made from the traditional method, so we can expect some of that yeasty autolytic character.
3) Cute and laid-back label. Very much a big contrast to the big LETS-PARTY-AND-GET-DRUNK labels you might see. Of course you don't judge a book by a cover, but you can't skim through a bottle of wine. It's a commitment. Presentation is key!
I noted that it was quite Old World in character, with restrained, steely fruit, and plenty of mineral character. Quite a delicate version of a (sparkling) Vouvray.
Producer: Breton
Designation: "La Dilettante"
Region: France
Sub-Region: Vouvray, Loire
Variety: Chenin Blanc
ABV: 12%
Vintage: NV
Tasted: June 11, 2012
Price: $39