"Minuet" – Luigi Boccherini: 2006 Marguet Champagne Grand Cru Brut
Tasting Note:
Eyes: clear, med lemon, bubbles
Nose: clean, pronounced intensity, developing, brioche, hint butter, baked apple, vanilla, citrus, yeast, biscuit
Mouth: dry, creamy mousse, med+ intensity, high acid, med- body, med alcohol, long length, ripe citrus, hint butter, brioche, baked apple, biscuit, slightly oxidized and nutty finish
All in all: Very good quality: high acid frames the surprisingly plusher mid-palate, while a concentrated palate persists on the oxidized finish. Though there is a fair bit of tertiary character, the wine could have a bit more complexity. Can drink now, but has potential for short-term ageing.
Identity Guess: Premium Non-Vintage Blanc de Blancs Champagne.
Is really: Premium Vintage Blanc de Blancs Champagne.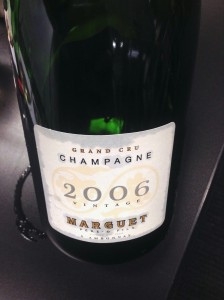 [Tasted during WSET Diploma class – Section 2 – Week 4]
Ahh. Champagne. Vintage Champagne. If only I could afford you on a regular basis.
This wine was chosen to display the polar opposite of the fleshy Pinot Noir character, instead showing the austere and elegant characteristics of Chardonnay to a mix that is a traditional Sparkling, along with added potential for longevity. This wine is almost the epitome of the elegant freshness that Champagne can be but woven with the seemingly juxtaposed yeasty and autolytic components, and finished with a bit of an oxidized nutty character stemming from barrel maturation and age.
It's kinda like that clichéd shit that you'd toast around: women in dresses, men in suits, golden hall, servers with hors d'oeurves, heels clicking on tile, long drawn-out laughter with heads thrown back, and the string quartet in the background. The stuff I think I'd hate in principal but secretly really want to partake in but probably won't ever, because I'm sitting here in a red onesie drinking 13-dollar Syrah.
Compare this to the authoritative NV Charles Heidsieck Champagne, which is a little bit more of a Naomi Campbell strut down the runway. (This is more of a Caroline Winberg, sort of.)
Producer: Marguet
Designation: Brut, Grand Cru
Region: France
Sub-Region: Champagne
Variety: Chardonnay
ABV: 12%
Vintage: 2006
Tasted: January 29, 2014
Price: $70