That less popular but better coffee shop: NV Varnier Fannière Champagne Grand Cru Cuvée St. Denis
Tasting Note:
Eyes: clear, med- lemon, bubbles
Nose: clean, med+ intensity, developing, caramel, ripe red apple, biscuit, brioche, mineral, butter, bread, ginger, buttered pastry
Mouth: dry, med body, med+ acid, med alcohol, med+ length, pronounced flavour intensity, caramel, brioche, red apple, biscuit, butter, mineral, creamy mousse
All in all: Very good quality: The intensity and concentration of complex flavours is outstanding, supported by a med+ acidic structure. But the alcohol is slightly imbalanced. Drink now: not suitable for ageing.
Identity Guess: Premium Non-Vintage Champagne from France OR a traditionally-made non-vintage sparkling from the New World; Blanc de Blancs or Chardonnay-dominated blend.
Is really: Premium Non-Vintage Champagne from France.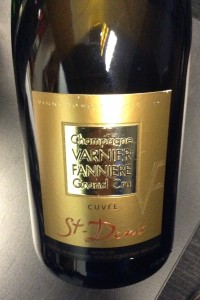 [Tasted during WSET Diploma class – Section 2 – Week 2]
The search for grower Champagne is becoming as trendy as quinoa. Trendy, meaning that the regular consumer is becoming more interested; agencies are marketing grower Champagne more than before; and my parents are suddenly in love with quinoa.
It's not a terribly well-known fact that a large proportion of Champagne houses buy grapes from vineyards and produce wine, while the more elusive grower Champagne is made from grapes from which the grower themselves grew. This latter style of Champagne alludes to a more representative wine of the vineyards (but this doesn't necessarily mean quality).
This wine was a fantastic grower Champagne that was chosen in our flight to contrast with a much more mass-produced bottle. This was much more autolysis-driven, with aromas that combined to form a sort of buttered pastry sort of smell. Breakfast in a glass? Good morning.
This wine was much rounder than the first, being slightly heavier in body and alcohol, along with a slightly lower acidity. The subtle ripeness of this wine led some of the class to meander a guess of a traditionally-made New World version, myself included – but it just so happens that this was a Champagne where the acidity didn't create a river of saliva in your mouth. Toasty, biscuity, and almost buttery tones led me to think this was a Chardonnay-dominated blend, but this could've been a fluke. (Full moon tonight. Does my nose turn freakishly werewolfy once a month?!)
Where the Möet & Chandon Champagne is kind of like Starbucks, this bottle represents the less-popular coffee shop down the road which is slightly more expensive but just happens to be more delicious. And it's nothing really to do with all the plaid shirts and beards that flock inside. (Bad analogy, shut up.)
Producer: Varnier Fannière
Designation: Grand Cru Cuvée St. Denis
Region: France
Sub-Region: Champagne
Variety: Chardonnay
ABV: 12.5%
Vintage: NV
Tasted: January 15, 2014
Price: $70