The Starbucks of Champagne: NV Moët & Chandon Champagne Brut Impérial
Tasting Note:
Eyes: clear, med- lemon, bubbles
Nose: clean, med+ intensity, developing, green apple, biscuit, nuts, almond, bread, mineral, flint, citrus, spice, cinnamon, nutmeg
Mouth: dry, med- body, high acid, med- alcohol, med+ length, med flavour intensity, green apple, citrus, hint nuts, hint autolytic, mineral, cream mousse
All in all: Very good quality: the structured high acid is well balanced, and the developing flavours are elegant and intense. The wine has hints of secondary characteristics but lacks some complexity. Drink now: not suitable for ageing.
Identity Guess: Premium Non-Vintage Champagne from France, possibly dominant in red grapes or done in a Blanc de Noirs style.
Is really: Premium Non-Vintage Champagne from France.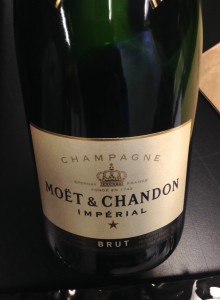 [Tasted during WSET Diploma class – Section 2 – Week 2]
Huzzah, y'all! It looks like Champagne is going to be a common item of delicious and academic revelry for the next couple of weeks. Unfortunately, I had to read out my tasting notes for this fella. Luckily, there weren't many corrections except for my overestimation of complexity and underestimation of length. I also underestimated quality at first, but Champagne does a thing to me. As it should.
Perhaps this is a coincidental and subdued tribute to the 2014 Golden Globes, where Moët & Chandon has apparently been served for 23 years. I'm also apparently part of the minority who even remotely gives two shits about awards shows, so I'll just stop this paragraph right here. Fuck you guys. You're not invited to my awards party.
(And if you are, the password is "Moët" but you have to pronounce it correctly.)
But really: this Champagne was chosen to illustrate a wine with strong market presence and strength in volume, but still have, well, good quality, despite mass-market presence. Champagne is one of the immovable boulders in the wine world which can't be easily shifted. The sparkling wine market is less fragmented, especially with Champagne, and comparatively few houses control a large proportion of sales worldwide. It's a weird thing, but it's also not so weird. It's shitty yet understandable.
I wouldn't give a Golden Globe to this wine, but I wouldn't kick it out of bed. It wasn't the autolytic amazingness that some Champagnes embody, but it wasn't entirely boring. Elegant notes of green apple and citrus were supported by almond tones, minerality, and subtle tones of biscuit. Letting the wine warm up slightly revealed notes of spice, cinnamon, and nutmeg. And then for some reason I thought of Cinnabon.
The wine is well-marketed and isn't going anywhere any time soon. It's the B-list celebrity that receives way too much attention but you for some reason don't really question it. It's kind of like Starbucks. I prefer other coffee, but I'll drink it if it's there. For me, caffeine is caffeine, kind of like Champagne is Champagne. I'm hardly picky about it, but I want the good stuff when I want the good stuff.
Producer: Moët & Chandon
Designation: Brut Impérial
Region: France
Sub-Region: Champagne
Variety: Chardonnay, Pinot Noir, Pinot Meunier
ABV: 12%
Vintage: NV
Tasted: January 15, 2014
Price: $65.50