2009 Baron Philippe de Rothschild "Baron Nathaniel" Pauillac
Tasting Note:
Eyes: clear, deep ruby, legs
Nose: clean, med+ intensity, youthful, blackberry, plum, spice, oak, cola, earth, mint, eucalyptus
Mouth: dry, med+ acid, med+ coarse tannin, med+ alcohol, med body, med flavour intensity, long finish, savoury, black cherry, black fruits
All in all: Good quality (apparently on the higher end of such): a long finish is complemented by a balanced structure. Age can both add character to the average complexity and soften the slightly rough tannin. Can drink now, but has potential for ageing.
Identity guess: High-priced Merlot from Chile; 2 years old. (although I was TRICKED, I TELL YOU)
Is really: High-priced left bank Bordeaux from France; 4 years old.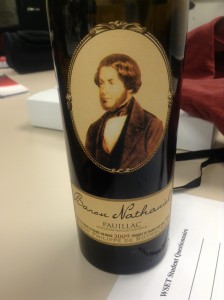 [Tasted during WSET Diploma class – Section 1 – Week 4]
Hi. Welcome back to the onslaught of me guessing all these blind tasted wines are from Chile, like the mother who constantly guesses your taste of the opposite gender. Ha.
HA.
As I said, the instructor accidentally flashed the identity of the wine on the slideshow – and then switched the order of the wines (without us knowing) to at least mix it up. The only thing I saw on the screen was "Merlot" (it was really "Cabernet Merlot" – bah) so the whole time I was essentially trying to guess where this "Merlot" was from.
Initially I thought this had to be from the New World. The texture of the wine was quite lush, and although the components that the instructor got (e.g. med+ acid, med+ tannin) pointed to a stronger structure, my original assessment had both on medium, but this could very well have been the "Merlot" priming. Gah.
That being said, 2009 was a ripe year with good concentration. Other recent examples have shown similar patterns, and this was no exception, although I could've sworn that the Château Potensac we had a couple of weeks ago showed higher levels of tannin. Bah. I'm tired. I need more rest before these stressful bouts of… sitting down and tasting wine. Wow, okay.
Could this age? My first impressions say no: my purported assessment of a medium structure and balance of primary and secondary characteristics say drink now, but the apparent structure, rougher tannins, and good concentration tell me that a couple of years could do a thing or two. I believe it.
Producer: Baron Philippe de Rothschild
Designation: "Baron Nathaniel"
Region: France
Sub-Region: Pauillac AOC, Bordeaux
Variety: Cabernet Sauvignon (80%); Merlot (10%); Cabernet Franc, Malbec, Petit Verdot (10%)
ABV: 13%
Vintage: 2009
Tasted: May 1, 2013
Price: $29