WSET Diploma – Section 1 – Week 4
First: happy birthday, blog! An excuse to open wine is all that's good for. Moving on.
I think I'm beginning to get into a real groove of studying for this course. Weirdly, I'm using some studying techniques from high school which take a long time to actually do, but I think that the information sticks to my brain like Australian Shiraz sticks to the glass.
I'm just a touch behind on my study schedule, since I aimed to have studied and read all of the first element of the WSET study guide (viticulture) by today. But all is well, since I studied everything I needed to study for today's lecture, which was essentially a consolidating class – i.e. one of those classes where I would silently complete the sentences of the instructor and subsequently feel both awesome and awkward, but mostly awkward for being that guy. Is the equivalent of slushie-throwing in Glee wine-tossing in WSET? Because I don't wanna.
My Viticulture (Stephen Skelton MW) book came in this week and I'm excited. That's it for this paragraph.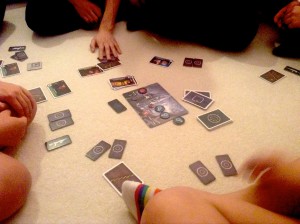 Most of my friends and I are officially finished exams, which means that board game hangouts were in order, and so it was. Along with powering through Cards Against Humanity, we played this Werewolf/Mafia-esque (except self-moderated) game called The Resistance, which resulted in us yelling at each other, masterful deceit, blatant lying, inappropriate name-calling, and complete full-on sass. It was great. We also played poker but I was quickly decimated. Now that you've read this sentence I'm never playing poker with you. I'm not even bluffing, I just straight-up suck.
Co-workers and I also hung out one night. I did not feel great the next day.
A couple of fighting raccoons almost ran into me, though. That was pretty great. Rabies averted!
We tasted a mere 2 wines in WSET class which sucked because the instructor accidentally flashed the identity of the first wine on the slideshow which pretty much ruined my guesses for both the wines despite the fact that he did a switcheroo. My notes weren't as great as last week's, either.
It must be all the wine I'm not drinking.
2009 Baron Philippe de Rothschild "Baron Nathaniel" Pauillac
2009 Stella Bella Cabernet Sauvignon Merlot