2009 Stella Bella Cabernet Sauvignon Merlot
Tasting Note:
Eyes: clear, deep ruby, legs
Nose: clean, med+ intensity, developing, soy, leather, dark cherry, stewed red fruits, black fruits, oak, mint, green pepper (capiscum), eucalyptus, meat, vanilla, hints of cola
Mouth: dry, med acid, med fine tannin, med+ alcohol, med+ body, med flavour intensity, med+ finish, savoury, leather, green bell pepper, dark cherry, cedar
All in all: Good quality: the flavour characteristics in the wine definitely showed grape character and a sense of place (despite the fact that I got it wrong) along with a relatively long finish. On the nose, I feel that there should be a little bit more fruit to tame the secondary characteristics, along with balance – the slightly lower acid on the palate makes the ripeness a little bit more evident although by no means does this ruin or distract the balance too negatively. Drink now: not suitable for ageing.
Identity guess: Mid-priced Cabernet Sauvignon from Chile; 4 years old.
Is really: High-priced Cabernet Sauvignon and Merlot blend from Margaret River, Australia; 4 years old.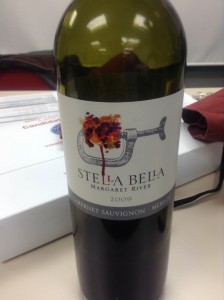 [Tasted during WSET Diploma class – Section 1 – Week 4]
OKAY, I know what you're thinking. Another guess from Chile. Shh.
I was so sure I nailed this one. The ripe red and black fruits with the green pepper capiscum aromas totally reminded me of a Chilean Cabernet Sauvignon I've had, so I went there. I mean, it's definitely closer than the previous wine in this lineup, so that's something.
The riper and finer tannins in this wine (which even I picked up on) pointed to a riper and warmer climate. If the last wine wasn't New World, then this one had to be one. Come on, throw me a bone, here.
My tasting notes were a little bit off this week, and I had exactly the same problem as the first wine – I underestimated the levels for tannin, alcohol, and body, only giving them the medium card. I swear I don't do the same for people. At least I don't think I do. Oh man.
Anyways, these wines were chosen to contrast wines that were similar in both quality and make-up. The point was that it's (nearly) impossible to imitate a quality wine via grapes (i.e. shitty soulless wine can be too-easily similar to one another) because there are so many other factors: climate, weather, soil, mesoclimate, and so on; and it shows in the finished product.
Clearly, this point could be better supported without my constant guesses for Chile. Thanks a lot, brain. Here, have more alcohol.
Producer: Stella Bella
Designation: N/A
Region: Australia
Sub-Region: Margaret River
Variety: Cabernet Sauvignon (73%) , Merlot (27%)
ABV: 14%
Vintage: 2009
Tasted: May 1, 2013
Price: $34