2015 ends and 2016 trends
I'm a bit late to this #bye2015hello2016 stuff! Anyways, I've said it way too many times than you care to read: I'm not big on New Year's resolutions. But this is the first year where reflecting and looking forward to the next year has felt the least forced. Despite my abrupt and perhaps ephemeral positivity, I won't be superimposing any fortune cookie pieces of advice onto filtered landscapes anytime soon – March seems to be my I-fucking-hate-everything downfall month anyway, so we'll see how much my outlook relapses.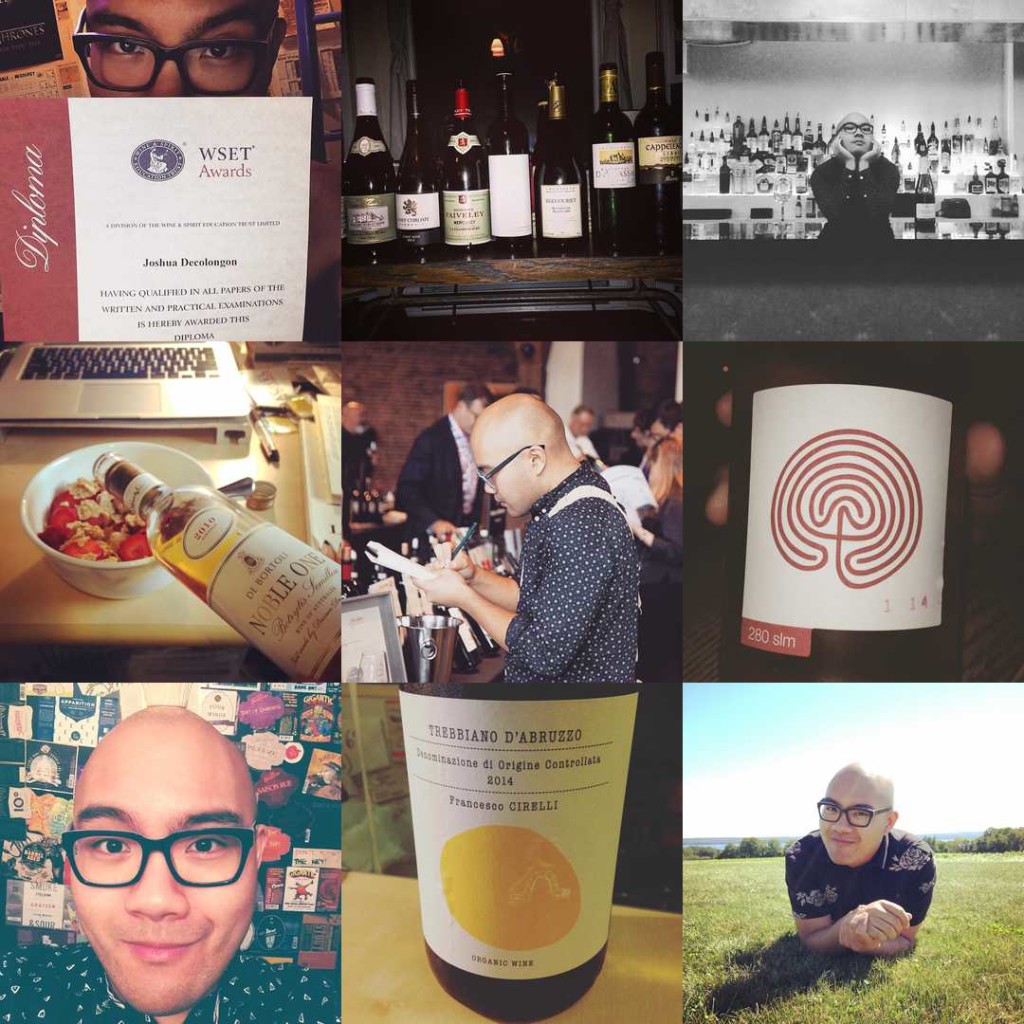 At the beginning of 2015, I made the tongue-in-cheek resolution to be a bit more selfish: to not to be guilt-ridden about having a balanced serving of things that make me happy and to give less of a shit about what other people think. Cookie cutter, I know – but easier said than done. Lots of travelling, lots of firsts, the inevitable changing of gears, and fortification of the soul, whatever the fuck that last one means. And completing the WSET Diploma! The patchwork of pictures above pretty much sums it all, bar the adventures in Europe. Deep sigh and gaze into the distance. Also, there's a tiny birthday cupcake on my head in that bottom-left picture. Y'know.
I do have some general goals for the year, like drinking less (but not drastically enough that I have to edit that section on certain social media websites) and the attempt at being more active (but so does everyone and their cat during the first month of the year). Maybe add another language or skill to my arsenal. I expect all of this to last until March, at the very most, when a pathetic attempt at cardio will end in greasy pizza and Champagne, doubtlessly during a new episode of Jane the Virgin or something.
Anyway, I've read that Cabernet Franc is going to be popular this year, which: finally. It was one of my favourite red grapes at the beginning of my wine career, only to discover that people weren't as charmed as I was, nor did pure examples really make themselves known in this market. With its home being in the Loire, I suppose this loosely ties into the escalating interest in the imprecisely defined but delicious world of natural wines, many which I had the pleasure of tasting in the past year. These wines really do provoke schisms at almost every level of wine enthusiasm. Maybe they're just a natural response to this whole green theme that we're moving towards, along with the experimental Millennial generation skewing trends to the offbeat and unknown. Sorry not sorry.
Italy will apparently be big this year. I'm happy about this, and it's perfect as the themed country for this year's Vancouver Wine Fest. There are talks about the denouement of Prosecco, but my naive prediction is that it'll be a steady decrease, if not just a trend that will level off, like Uggs. I'm also excited to see the potential realization of growing South African wine popularity.
All in all, I guess that the Plinko chip has definitively landed in the slot of Elegance, the muted and soft Colours of the Year by Pantone in 2015 and 2016 perhaps coincidentally mirroring the decreased prevalence of both heavyset and brazen wines in the same years. This isn't without new bottles entering the fray, like the rising prevalence of English wines. Canada recently saw its first import. My personal wine-themed hopes and dreams for this year are that both Cava and Riesling will resurface, along with premium Spanish wines.
Welcome, 2016. I will cut you.
Audrey et Christian Binner 2011 Riesling (Alsace, France) Oct 24, 2015.
Less like a cutting ray of sunshine and more like a strike of thunder during a storm at sea. Smells sweet with orange marmalade and apricots on the nose, with the palate opening with a punch of earthy dryness and mango green tea.
Château d'Aydie 2013 "Odé d'Aydie" Pacherenc du Vic Bilh Sec (Pacherenc du Vic Bilh, Southwest France) Nov 5, 2015.
An odd combination of apricots, plastic, cashews, and a small spoonful of butterscotch. A pleasing amount of acid – much more than its 2012 version – with the palate yielding more butterscotch and apricots, along with lime zest and lemon tea.
Musella 2008 Amarone Riserva (Veneto, Italy) Dec 19, 2015.
Spicy black fruit and chocolate-covered raisins. Full, with marked chalky tannin and integrated high acid. Something plush missing but very brawny, satisfying, and true. Earth and prune.
Luccarelli 2013 Negroamaro (Puglia IGT, Italy) Dec 23, 2015. $15.
Stewed plum, a sort of earthy dusty Axe spice, and for some reason, those chalky rocket candy pills. Medium-bodied, with dried plum, medium body, and soft tannin with just a hint of meatiness at the end.
Raphael 2014 Verdicchio dei Castelli di Jesi Classico (Verdicchio dei Castelli di Jesi, Marche, Italy) Dec 27, 2015. $22.50.
Nice golden tinge. Lemon, honeysuckle, minerally nectarine, and a hint of something pleasantly unclean on the soft nose. Much more expressive on the palate, where a steely savoury citrus envelops the tongue in glittery daylight. Medium-bodied with a fair amount of concentration. I want to say this almost channels Alsace.
Kasaura 2014 Trebbiano d'Abruzzo (Abruzzo, Italy) Jan 1, 2016. $18.50.
On the nose, mostly neutral green fruit with a curious hint of parsley. A bit more intense on the palate with a slightly livelier shade of green and white peach action. Round. A bit basic at first, but warms up with chalky undergrowth.
De Toren 2012 Fusion V (Stellenbosch, South Africa) Nov 5, 2015.
Cabernet Sauvignon (56%), Malbec (15%), Merlot (10%), Cabernet Franc (10%), Petit Verdot (9%). Black plums and dark berries rolled in dark chocolate, soil, and cigarette butts. Begins meaty and plummy, and ends earthy and smoky, with a subtle impression of green pepper. Mouth-coating and ripe without being sticky.
Faithful Hound 2013 White (Stellenbosch, South Africa) Oct 25, 2015.
Bordeaux blend: 57% Semillon and 43% Sauvignon Blanc. Popcorn with sprinkles of dried herbs, and then salted red apple among the pineapple. Saline and caramelized green peppers on the palate, a nice fresh response to the slightly more hedonistic oaky nose. An interesting triple intersection of oak, brine, and subtle viridescence.
Coates & Seely NV Brut Réserve (England) Nov 5, 2015.
A blend of 2009 and 2010 at the moment. Mineral, yeast, lots of lemon zest and a hint of green apple. Very extroverted and rich on the palate, with lemon, lime, and an interesting red fruit element that manifests itself as strawberry-lime. Leaves a fine chalky imprint on the palate. First English sparkling wine ever available in Canada.
Villa Conchi Cava Brut Selección (Cava, Spain) Dec 9, 2015. $18.
A nice amount of subtle yeast and biscuit among the soft lime and rosemary. Quite flavoured on the palate, with ripe citrus and nectarine ending just a hint pithy. The texture is a bit pushy but it matches the intensity of the flavours. The ripeness really rounds it out. Really good value.
Karthäuserhof 2007 Eitelsbacher Karthäuserhofberg Riesling Auslese (Mosel, Germany) Dec 19, 2015. $65.
Peach nectar, apricot, honey, bits of petrol, botrytis. The synergetic maelstrom of medium sweetness and fresh marked acid ignites nothing but pleasure. Mouth coating, but twinkles like stars set on a background of a bright sunset. Hint of a peach pithy ending. Quite gossamer. A bit of cough medicine? But lots of fruit. Bit of black tea and spice on the end.
Leitz 2014 "Dragon Stone" Riesling (Rheingau, Germany) Dec 2, 2015. $22.
10% ABV. Soft lime seed, white peach, white flowers, and dusty slate on the nose. Slatier on the nose with much more intensity on the palate. Off-dry, but stony and calm with green apple, fresh peach, and limeade. Just enough zip here with slight spritz, though the finish lacks in the slightest. Relaxed and creamy.
Rudolf Muller 2013 "Bunny" Riesling (Pfalz, Germany) Dec 19, 2015. $17.50.
Very much, literally, like apple juice, with dabs of peach pith and a fair amount of mineral on the nose. Off-dry with medium intensity; quite round and slick. Easy, especially with the dampened acid.
La Rioja Alta 2004 "Viña Ardanza" Rioja Reserva (Rioja, Spain) Aug 29, 2015.
Pale to medium garnet. A real toasted charred oak character that almost veers into a lovely burnt popcorn. Very soft on the palate with intense fruit and soft tannin. Ends with a savoury leathery soy flavour.