2016 was questionable, so here are 20 wines to pair with 2017
I ended a past blog post – themed: a review of 2015 – with the words "Welcome, 2016. I will cut you." Though I feel like I did personally make some substantial dents in this crunchy titanium can of a year, the general consensus seems to be that we created a blueprint for goodness, but then said blueprint was stolen, lit on fire, and then puréed with an unwashed beige-coloured towel embroidered with the words "~fUcK yOu~", styled in Comic Sans MS.
I won't fill this post with hopes for 2017 so that I don't build myself a bigger bowl of disappointment, but instead will list wines that remind me of an upwards trend of hope, a vague connection to the vapid consolation of Pantone's Color of the Year, a fresh and flora-driven yellow-green named "Greenery". Perhaps we can all clutch our wine glasses of liquid optimism while peering out of our curtains during the first quarter of 2017. If all we see is an echo of dread, at least we'll be fucking drunk.
Speaking of greenery, optimism, and freshness: more pyrazines for 2017! I don't give a shit that New Zealand Sauvignon Blanc is the most overrated liquid after artisan coffee and horror-movie blood. I'm going to encourage the Sauv-alanche so hard that even after putting your nose in a glass of Riesling, it's going to smell like I've replaced every single winter snowball with a fresh green pepper. "Greenery" also brings to mind the obvious ideas of naturalness and the earth, so in spirit of "natural wines", all the irritating debates that unfailingly follow, and to soothe the top half of your head from painful eye-rolls after my encouragement for That White Grape™, I've included a large proportion in the list.
That being said, I just had some friends blind taste the Chateau Hureau 2013 "Tuffe" Saumur-Champigny, an organic pyrazine-laced barnyard fantasy of a Cabernet Franc, and all seven of them almost reported me for a hate crime. I'm still working on it.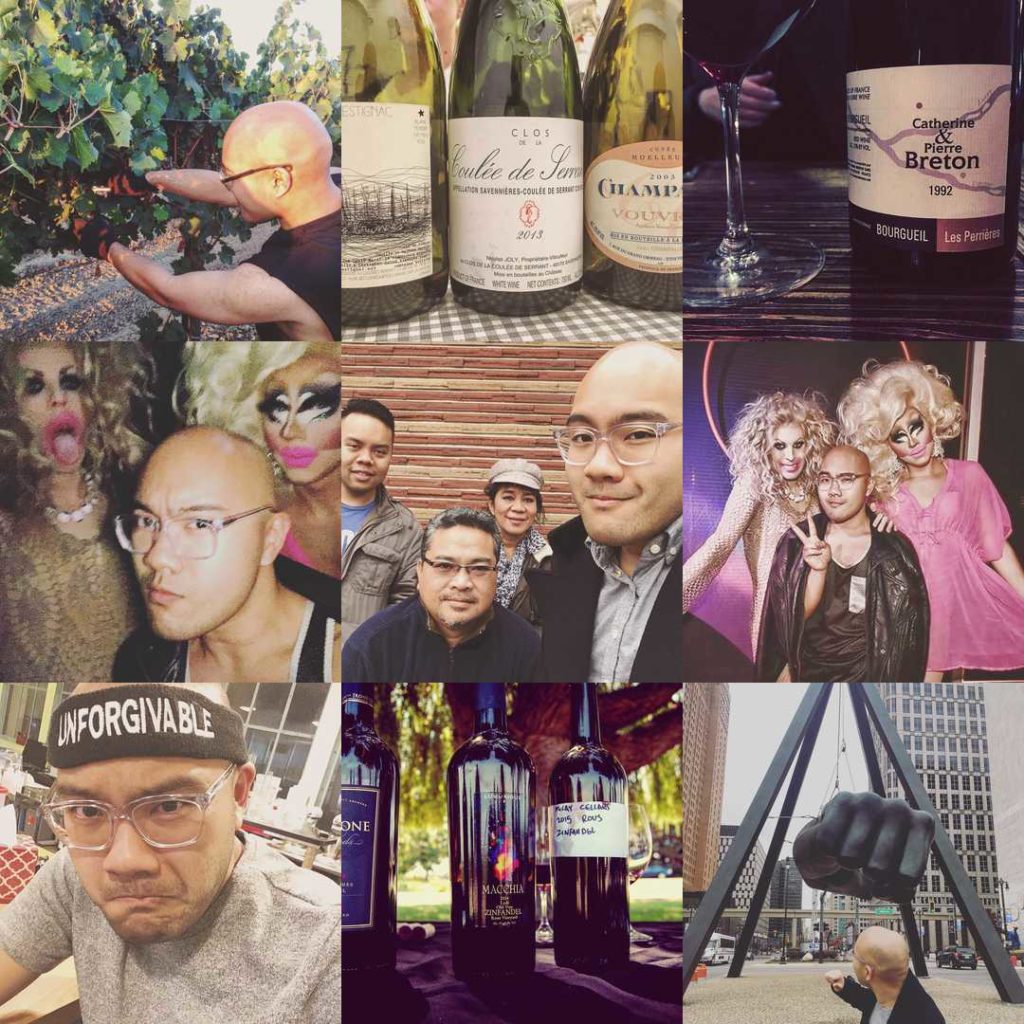 Yealands 2015 "Peter Yealands" Sauvignon Blanc (Marlborough, New Zealand) Aug 2016.
70% Awatere Valley and 30% Wairau Valley. Pleasantly vegetal with lots of asparagus, hints of jalapeño, minerals, and suggestions to tropical fruit. Rounder than I expected, but still electric, like a ball of energy. Maybe just slightly hollow, though.
Yealands 2014 Estate Single Vineyard Sauvignon Blanc (Marlborough, New Zealand) Aug 2016.
Awatere Valley, 100% Seaview Vineyard. Much more intoxicating blackcurrant fruit here – not just the leaf. Super cool to see this contrast. Toss some citrus and bits of black pepper onto the previous wine's melange of greenery, and then add pinches of more savoury twinkles of salinity on the palate. Refreshing finish of lemons and blackcurrant.
Yealands 2014 Yealands Estate Single Block S1 Sauvignon Blanc (Marlborough, New Zealand) Aug 2016.
Awatere Valley, 100% Seaview Vineyard. Add on a little more blackcurrant to the final Sauvignon Blanc, with an intense dusting of flintiness and bits of peach. Much richer on the palate with really elegant and expressive flavours of blackcurrant which don't overwhelm the tongue. True to the flamboyant style of NZ Sauvignon Blanc, yet this is one of the richest expressions I've ever had from the region! This is the sort of paradoxical shit that I love.
Yealands 2015 "Peter Yealands" Pinot Gris (Marlborough, New Zealand) Aug 2016.
Moderately intense stone fruit; dusty white peach. An almost-exact embodiment of a wine that reaches the halfway point between Italian Pinot Grigio and Alsatian Pinot Gris. On the richer side with a dense blanket of stoniness, peach, and a bit of chalky texture – yet it's still as bright as a cold noon.
Yealands 2014 "Peter Yealands" Pinot Noir (Marlborough, New Zealand) Aug 2016.
Awatere Valley, 100% Seaview Vineyard. Supremely expressive with a pure and ethereal mix of strawberry and raspberry fruit, prompting a woman to raise her hand and declare her love for this wine by using the word "fresh" like a million times in one sentence. Plenty of cozy spice to match the fruit, and maybe a hint of meatiness. Really endearing on the palate, in that it maximizes the fruit without veering into the overripe category. Fresh acid, slowly forming spice, and a gentle dusting of tannin.
Yealands 2014 Estate Single Vineyard Pinot Noir (Marlborough, New Zealand) Aug 2016.
Awatere Valley, 100% Seaview Vineyard; 70% matured in French barriques (20% new; 80% 2nd fill). Non-fruits are the leaders here, with spice, cola, a hint of greenness, and black cherries. Dense yet lightweight with a faint glimmer of salinity on the palate. Just as fresh and velvety as the previous. I'd love to slap this in the cellar and see how this could blossom.
Huet 2015 "Le Haut-Lieu" Vouvray Sec (Vouvray, Touraine, Loire, France) Jan 2017. $37 USD.
That characteristic wet wool with yellow apple, and then a gentle blast of mustard seed before grading into spicy minerality. Thunderously young and eager!
Pierre Olivier Bonhomme 2013 "Le Tel Quel" (Vin de France) Apr 2016.
A blend of Gamay with some Côt. A bit stemmy and funky on the nose – almost seems corked, but I remember this wine having a similar vibe in previous vintages. Lots of crunchy cranberry and some black pepper. Light but full of vibrant texture and lightly coarse tannin.
Catherine & Pierre Breton 2014 "Épaulé Jeté" (Vin de France) Apr 2016.
100% Grolleau. Intense combination of raspberries and liquorice on the nose. The palate's not as friendly, though it's somehow brawny with its coarse tannin and elegant at the same time.
Jean Bourdy 2011 Côtes du Jura Rouge (Jura, France) Apr 2016.
Pinot Noir, Trousseau, and Poulsard. Very pale ruby. Cranberries, some earthy funk, and interestingly enough, red apple. Dry, ethereal, full-flavoured, with a fine light layer of tannin and juicy acid.
Jean Bourdy 2009 Côtes du Jura Blanc (Jura, France) Apr 2016.
100% Chardonnay. A dusty and slightly timid nose of bruised green fruit wrapped in a delicate coating of blanched almonds. Full, creamy, and savoury, with bruised apple on the palate and a vibrating minerality.
La Stoppa 2011 "Ageno" (Emilia-Romagna, Italy) Apr 2016.
Beautiful copper-coloured orange wine. Mostly dried lemon zest and tons of potpourri. Very cool! Definitely nice density to this, as well as a fair mount of grip. A blend of 60% Malvasia di Candia Aromatica; and 40% Ortrugo and Trebbiano.
Audrey et Christian Binner 2009 Riesling Grand Cru Kaefferkopf (Alsace, France) Apr 2016.
The 51st Alsace Grand Cru added in 2007, and one of the few that allows blends – this one in particular is Gewurztraminer, Riesling, and Muscat. Really exuberant expression with waves of candied peach, orange blossom, and mango. It's off-dry with a little more lemon and lime on the palate. Super summery and bright but not at all piercing.
Jean-Paul Brun 2014 Beaujolais Blanc (Beaujolais, France) Apr 2016.
Chardonnay. White peach, a bit of nectarine, and a small dollop of mushrooms and cream. A hint of residual sugar rounds out the texture on the palate, and the smallest bit of mango makes an appearance. Pleasantly structured.
Jean-Paul Brun 2013 Roussanne (Vin de France) Apr 2016.
Mostly peach on the nose. Definitely much more neutral in flavour on the palate, but it's somehow still quite dense and oily in texture. Finishes with some soil-like funk.
Eric Texier 2013 "Adèle" Côtes du Rhône Blanc (Côtes du Rhône, Rhône, France) Apr 2016.
I don't come across many aromatic white Côtes du Rhône! But wow: 80% Clairette and 20% Marsanne. Nectarine and a bit of cheese on the nose, and then less flavoured on the palate – yet textured – with melted creamsicle. Cool stuff.
Domaine Matassa 2014 "Cuvée Marguerite" (Vin de France) Apr 2016.
Hazy. Hella aromatic. An interesting combination of ripe lemon, sesame seed, earth, and a touch of vinaigrette. Steely lemons on the palate. Quite bright. Half Viognier and half Muscat Blanc à Petits Grains.
Domaine Monier 2014 Viognier (Vin de Pays des collines Rhodaniennes, France) June 2016. $30.50 USD.
A really pretty wine with a nose of apricot yoghurt and honeysuckle. Like literal Activia realness. Creamy and flirty, but with a really floral and stony edge to the finale. A hint of peach pit ripeness, but definitively dry. Nice amount of cleansing acid despite the oiliness.
Andreas Baron Widmann 2014 Südtiroler Vernatsch (Alto Adige, Italy) May 2016. $24 USD.
Petition to rename "pale ruby" to "Melisandre's jewel"! Black pepper and strawberries. Light and with just a bit of smoked meat. Not super intense or textured but very gulpable. Gently vibrant, but too simple for me. Reminds me of a lighter-hearted cousin of Blaufränkisch.
Frank Cornelissen 2014 "Contadino" (IGT Terre Siciliane Rosso, Italy) Nov 2016.
Bacon, wet soil, burnt broccoli, and a bit of nail polish, with bits of blueberry showing through. Medium-bodied and with chalky tannins and some yeast. Bottle variation? I remember loving this much more. Then again, this group isn't so much a fan of it. Bright jutting balsamic character on the palate throughout.