Overcast diamonds: Domaine Latour-Giraud 2011 "Genevrières" Meursault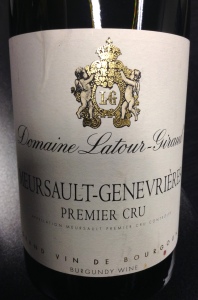 [Tasted during WSET Diploma – Unit 3 – Week 8: Burgundy]
The first time I've had a Premier Cru Burgundy was in WSET Intermediate class years ago – it was the Latour-Giraud 2008 Meursault-Perrières. Looking at my notebook, I don't seem to have much to say about it. I mean, good for you if you're bedazzled by young and amazing white Burgundy at age 19, but I guess I needed more convincing.
The second time I've ever had a Premier Cru Burgundy was in WSET Advanced class, where it looks like I was really unimpressed. Just earlier this year I realized how amazing it was that I tried a Meursault and I back-pedalled hard, but retrying this helps me understand my past self. I mean, you hear about how textured and hedonistic and buttery Meursault can be, but it takes such a long time to get there. I suppose I just taste a lot of them way too young.
Still quiet on the nose, though, with developing notes of green fruit, butter, nuts, and something minerally but strangely pleasant, like a hint of petroleum. It's fascinating to experience the pronounced flavours on the palate, yet they're so bizarrely restrained and coy at the same time, and it's hard to describe exactly what the flavours are. There's an interesting fleshy and buttery green apple, and a savoury character that lasts on the palate.
Tasting Note:
Eyes: clear, med lemon, legs
Nose: clean, developing, med intensity, mineral, butter, green fruit, oak, nuts, petroleum
Mouth: dry, med+ body, pronounced intensity, high acid, long length, med alcohol, green fruit, fleshiness, butter, apple, citrus, lemon, lime, hint phenolics/tannins
All in all: Outstanding quality: though the wine is restrained and needs some room to grow, complex flavours persist on the palate. The young flavours are concentrated, and the wine is balanced. Too young.
Producer: Domaine Latour-Giraud
Designation: Genevrières
Region: France
Sub-Region: Meursault AOP, Côte de Beaune, Côte d'Or, Burgundy
Variety: Chardonnay
ABV: 13.5%
Vintage: 2011
Tasted: December 8, 2014
Price: $110