2006 Louis Jadot Chardonnay Meursault Genevrières
Tasting Notes:
Eyes: clear, pale to med- lemon
Nose: clean, med+ intensity, developing, flinty, leesy, apple, oak, butter, nutty
Mouth: dry, med bodied, med+ acidity, long length, med+ alcohol, med+ intensity, citrus, mineral
All in all: Very good quality; Can drink now, but has potential for ageing.
Tasted against the 2010 Joseph Drouhin "Laforet" Chardonnay.
Although I did record my tasting notes and the quality of this wine, the fact that this expensive-as-shit wine wasn't entirely memorable sort of worries me a bit, and I'm wondering if it just didn't have enough character in the end. I did note that this wine was well-balanced but could have had more complexity for the price.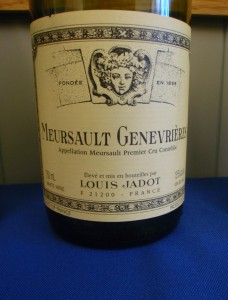 Buy this if you're filthy rich. Otherwise, for the same price, you can buy a cheaper bottle of Chardonnay, dinner, and still have leftover money to do so for the next day or so.
Edit (Feb. 21, 2014): OH MY GOD, did I really write about how this was boring?! How has no one punched me in the face?!
Producer: Louis Jadot
Designation: Meursault Genevrières
Region: France
Sub-Region: Burgundy (Meursault)
Variety: Chardonnay
ABV: 13.5%
Vintage: 2006
Tasted: May 26, 2012
Price: $145