Audrey Hepburn: Domaine Tortochot 2010 Chambertin Grand Cru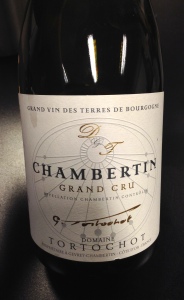 [Tasted during WSET Diploma – Unit 3 – Week 8: Burgundy]
This was spectacular. Apparently only two cases were directly brought into the province, and they went quickly. A great price, from what I can tell, but I'm not gonna pretend that I'm a huge connoisseur of Grand Cru Burgundy. Like, if you were to open one in my presence, I'd definitely force us to light candles and do a Gregorian chant before uncorking it.
Pinot Noir from the Côte de Nuits, of the north half of the Côte d'Or, is said to be more structured, deeper, perhaps darker in its fruit, and have a protracted maturation window compared to the wines of the Côte de Beaune. So, compared to the lighter Savigny-Lès-Beaune we had just before, this wine exuded more dark fruits, more brooding notes in the form of forest floor, mushroom and leather, and some oak, where there were well-integrated murmurs of mocha and sweet spice.
Undeniably pronounced on the palate, with intensity reflected by the high acid and fine tannins that were, for Pinot Noir, on the vociferous side. Feathery and elegant, but still commanding attention, like a starry sky uncontaminated by light pollution, Audrey Hepburn, or like an actual feather. Or how I think I come off after exactly three drinks.
Tasting Note:
Eyes: clear, med ruby, legs
Nose: clean, med+ intensity, developing, red fruit, strawberry, black cherry, mushroom, earth, forest floor, floral, leather, black fruit, decaying leaves, oak, chocolate, sweet spice
Mouth: dry, med- body, pronounced intensity, high acid, med alcohol, med fine tannin, long length, black pepper, leather, mushroom, red fruit, strawberry, black cherry, earth, black fruit
All in all: Outstanding quality: this Pinot Noir is concentrated and finessed at the same time, with great complexity leaving tertiary notes to the imagination. The structure is quite present for a Pinot Noir yet flavours are very well balanced and even pronounced. Long finish. Can drink now, but has potential for ageing.
Producer: Domaine Tortochot
Designation: Grand Cru
Region: France
Sub-Region: Chambertin AOP, Côte de Nuits, Côte d'Or, Burgundy
Variety: Pinot Noir
ABV: 13.5%
Vintage: 2010
Tasted: December 8, 2014
Price: $190