"There's Too Much Love" – Belle and Sebastian: Phillipe Girard 2010 "Les Lavières" Savigny-lès-Beaune Premier Cru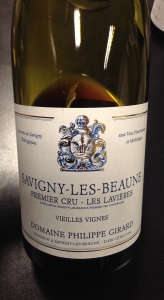 [Tasted during WSET Diploma – Unit 3 – Week 8: Burgundy]
The next two wines we tasted were both Pinot Noirs from two different halves of the Côte d'Or – this one was from the Côte de Beaune in the south, while the next one was a Chambertin from the Côte de Nuits in the north.
Lighter and more driven by flowers, strawberries, and red cherries compared to the Chambertin. It's often said that Pinot Noir from the Côte de Beaune creates wines that are lighter, fruitier, and prone to earlier maturation than that of the north. Much more pure in fruit than the basic Burgundy we tried a couple of wines before, if you were to compare the first wine to blurry vision à la Velma losing her glasses, and then this wine to putting on a stylin' pair. Maybe with a floral pattern or sparkles or something. Unicorn stickers.
"Pretty" was the one word we came up with that we thought described Savigny-Lès-Beaune to a T. I don't know: I think this Belle & Sebastian song fits better, but that's just me. I've also just recently watched a fantastic film that featured this song so basically I'm just using this post as an excuse to spread it on the toast that is the internet.
Tasting Note:
Eyes: clear, pale ruby, legs
Nose: clean, med+ intensity, youthful, red fruit, strawberry, flowers, dried cherry, ripe red fruit, hint of oak, hint of game, sweet spice
Mouth: dry, med- body, med+ intensity, high acid, med alcohol, red fruit, strawberry, bright cherry, med- fine tannin, dried flowers, dried red fruit, long length
All in all: Very good quality: the wine shows very pure notes of flowers and red fruit despite juicy acid levels. The wine is complex but could use more time to get better with development; and though there's just a mere hint of almost unnoticeable greenness, the wine has a lengthy finish.

Producer: Phillipe Girard
Designation: "Les Lavières"; Grand Cru
Region: France
Sub-Region: Savigny-lès-Beaune AOP, Côte de Beaune, Côte d'Or, Burgundy
Variety: Pinot Noir
ABV: 13%
Vintage: 2010
Tasted: December 8, 2014
Price: $46