"Soldier's Poem" – Muse: Lucien Barrot 2009 Châteauneuf-du-Pape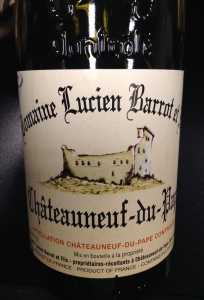 [Tasted during WSET Diploma – Unit 3 – Week 6: Rhône]
Just from the looking at our flight of five, it was obvious that this was the most aged from the orange-tinged garnet hue, but I'm pretty sure everyone pegged it as Châteauneuf-du-Pape because it was the last wine (including myself, perhaps). The most kingly appellation in the southern Rhône can offer some level of variety like other southern Rhône blends, allowing something like 13 different grapes (18 including mutations) into its wines, with top producers varying their recipes dramatically. Château de Beaucastel, for example, is known for making a Châteauneuf-du-Pape with all of the allowed varieties, while Chateau Rayas makes one that's virtually a Grenache clubhouse.
The most evolved wine of the bunch of course had more leather, nuts, spice, and earth to match the stewed and dried fruit. The palate of course had acid on the softer side and a fatter body, but slightly lopsided and chalky tannins were rather uneven. Delicious and flavourful finish. The texture is lush and relaxed but there's a backbone of tannic roughness at the end. It's two-toned but in a pleasant way.
Tasting Note:
Eyes: clear, deep garnet, legs
Nose: clean, pronounced intensity, developing, leather, nuts, white pepper, dried black fruit, dried red fruit, stewed fruits, spice, ripe raspberry, earth, mineral, tobacco, cedar
Mouth: dry, med+ body, med+ intensity, med- acid, med+ chalky tannin, earth, spice, stewed fruit, savoury, dried fruit, spice, raspberry, white pepper, leather, high alcohol, long length
All in all: Very good quality: though the tannins are slightly unintegrated, the wine is quite complex, intense, and the flavours last well onto a lengthy finish. Drink now: not suitable for ageing or further ageing.
Identity Guess: Premium-priced Châteauneuf-du-Pape from Rhône Valley, France; 5 years old.
Is really: Premium-priced Châteauneuf-du-Pape from Rhône Valley, France; 5 years old.
Producer: Lucien Barrot
Designation: N/A
Region: France
Sub-Region: Châteauneuf-du-Pape AOP, Rhône Valley
Variety: Grenache (80%), Syrah (20%) [source]
ABV: 15%
Vintage: 2009
Tasted: November 24, 2014
Price: $50