What was once my university spring break drink of choice: Famille Perrin 2013 Tavel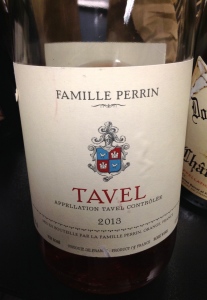 [Tasted during WSET Diploma – Unit 3 – Week 6: Rhône]
I wasn't a big partier back during my time at university, though there was that one spring break during second year where a friend invited a group of us to her beautiful house on Vancouver Island. I'm talking about a house overlooking the docks, a bathroom where you can poop while dreamily viewing the ocean and clouds, and bowls of jellybeans on every side table. I don't know why the jellybeans part sticks with me so much.
For some reason, I thought Tavel would be the perfect choice (while everyone else went for the sensible hard liquor and beer route), and though it wasn't really what I expected for a rosé (at the time), it was still a delicious choice. The appellation has a maximum sugar level of 4 grams per litre – so in theory, the wine is always dry but can give a ripe impression. It served us well, but I'm sure I looked like a total asshat bringing a bottle of French rosé to a university spring break getaway.
I'm pretty sure we all got drunk and it was fine, though I'm looking through photos now and realizing how haggard I look. And there I am with that homemade cork-and-wire necklace I made that I thought would be a good idea to wear for a large proportion of the year. Great.
The wine has more body than most rosés and just a hint of tannin that frames the ripe fruit.  You often don't huge complexity even out of the most serious rosé (I'm sure this is arguable), so the flavours that this wine carries is still on the awesome side of the spectrum.
Tasting Note:
Eyes: clear, deep pink, legs
Nose: clean, med intensity, youthful, mineral, petrichor, red fruit, strawberry, raspberry, spice, hint herbal
Mouth: dry, med+ body, med acid, med alcohol, med+ intensity, mineral, red fruit, stones, strawberry, raspberry, spice, low chalky tannin, med+ length
All in all: Very good quality: restrained red fruit and herbal complexities are framed and balanced well by moderate amounts of structure. Though the finish is long and intense, the midpalate could use just a hint more concentration. Drink now: not suitable for ageing or further ageing.
Identity Guess: High-priced Tavel from Rhône Valley, France; 2 years old.
Is really: High-priced Tavel from Rhône Valley, France, 1 year old.
Producer: Famille Perrin
Designation: N/A
Region: France
Sub-Region: Tavel AOP, Rhône Valley
Variety: Cinsault, Grenache, Mourvèdre
ABV: 13.5%
Vintage: 2013
Tasted: November 24, 2014
Price: $26