"Smoke on the Water" – Deep Purple: Domaine Maby 2012 "La Fermade" Lirac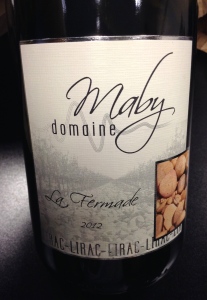 [Tasted during WSET Diploma – Unit 3 – Week 6: Rhône]
The middle three wines in this flight were notably similar: so we were given three choices. One was a simple Côtes du Rhone, one was a step high in quality as a Côtes du Rhône Villages, and one was a step higher in quality than that, as another appellation in the Southern Rhone, or an appellation that used to be at the Villages level but was drawn into its own appellation. I thought that the third in the flight was the obvious simple CdR level, because it didn't have the same concentration, intensity, or length. That left us with the first two, which were actually rather similar.
I found this one slightly less exuberant compared to the first, and perhaps less friendly in its aromas. Not in a bad way, of course – but fruitier aromas were replaced by more game, spice, and what I noted as a sort of rubbery character, as well as liquorice. I eventually deemed this the highest quality of the three because of its longer length and slightly more complex visage.
The palate was also a bit rougher and bulkier, with the structure being slightly imbalanced. The relatively expressive flavours and pretty rough texture makes me picture a burlap sack with thick threads full of black fruit, spices, and soil, almost tearing at the seams because of how tough it is to keep everything in the bag.
I'm pretty sure I used that typeface for a high school project one time.
Tasting Note:
Eyes: clear, deep ruby, legs
Nose: clean, med+ intensity, youthful, black pepper, spice, hint game, black fruit, earth, liquorice, raspberry
Mouth: dry, med+ body, med- acid, med+ intensity, black fruit, high chalky tannin, pepper, spice earth, high alcohol, med+ length
All in all: Very good quality: the wine is intense and concentrated but almost unkempt, with balance being slightly imbalanced; however, the flavour profile is complex and the flavours last on the palate. Can drink now, but has potential for ageing.
Identity Guess: High-priced Gigondas from Rhône Valley, France; 2 years old.
Is really: High-priced Lirac from Rhône Valley, France; 2 years old.
Producer: Domaine Maby
Designation: "La Fermade"
Region: France
Sub-Region: Lirac AOP, Rhône Valley
Variety: Grenache (56%) Mourvèdre (30%) Syrah (14%)
ABV: 14.5%
Vintage: 2012
Tasted: November 24, 2014
Price: $30