God's plan: Château La Courançonne 2012 Côtes du Rhône Villages Plan de Dieu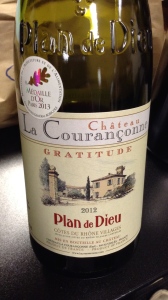 [Tasted during WSET Diploma – Unit 3 – Week 6: Rhône]
"Plan de Dieu" is one of the named villages of the "Côtes du Rhone Villages" appellation, much like Rasteau and Gigondas and Vacqueyras once were before graduating to their own AOPs. I also think it's the creepiest sounding one, and I'd love to both know the story behind it and also keep a bottle on hand every time someone tells me something is part of "God's plan". Then I can, in just an ominous whisper, say "no, this is part of God's plan", and then subsequently uncork the bottle without breaking eye contact. And then get really drunk. It's foolproof – to what, I don't even remember or care.
Anyways, this was our second wine in our flight of five, with the first wine being an obvious Tavel and the last perhaps being an aged and less obvious Châteauneuf-du-Pape. The middle three wines were Côtes du Rhône blends of some sort, and the third of the middle three wines seemed of the lowest quality. This and the second wine were rather similar, though this one had slightly less earth, less tannin, but slightly more acid. The shorter length had me guess this as the blend at the Villages level, though the amount of complexity and sturdiness still had me rank this as very good.
It also has some sort of sticker-medal on it, if that matters to you.
Tasting Note:
Eyes: clear, deep purple, legs
Nose: clean, pronounced intensity, youthful, dried herbs, earth, mineral, dried black fruit, blackberry, black pepper, spice, sweet spice, blackberry preserves, ripe red fruit
Mouth: dry, med+ body, med acid, med+ intensity, med+ chewy tannin, high alcohol, black fruit, dried black fruit, spice, black pepper, red fruit
All in all: Very good quality: despite alcohol that sticks out just a bit and a finish that isn't super long, the wine is well-balanced considering its intensity, complexity, and concentration. Can drink now, but has potential for aging.
Identity Guess: High-priced Côtes du Rhône Villages from Rhône Valley, France; 2 years old.
Is really: Mid-priced Côtes du Rhône Villages from Rhône Valley, France; 2 years old.
Producer: Château La Courançonne
Designation: Plan de Dieu
Region: France
Sub-Region: Côtes du Rhône Villages (Plan de Dieu), Rhône Valley
Variety: Grenache (40%) Syrah (30%) Mourvèdre (30%)
ABV: 14%
Vintage: 2012
Tasted: November 24, 2014
Price: $24