Breakfast in a glass, pt. 2: Delas 2009 "Seigneur de Maugiron" Côte-Rôtie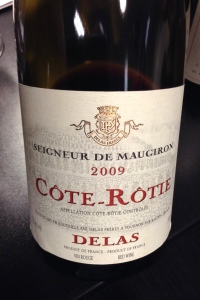 [Tasted during WSET Diploma – Unit 3 – Week 6: Rhône]
This wine was basically breakfast in a glass part 1 with its toast, coffee, and marmalade sort of deal. If you were wondering. Enter part 2! We still have toast on the breakfast menu for this wine, but toss in some smoky peppered bacon and toast with blackberry jam. And then replace the citrus marmalade with something leathery. (Or something.)
The appellation from which this wine comes is the northernmost tip of the Rhône, where gravelly soils extend from Beaujolais. Viticulture is almost as expensive as it gets, with low yields and sloped vineyards, leading to necessary terraces and obligatory manual harvesting.
Like Condrieu to the south, plantings were relatively low as recent as the 60s and 70s but boomed in the 90s, in this case, due to Guigal and Robert Parker.
The wines from this region are allowed a maximum of 20 percent Viognier to be co-fermented into the wine, which adds aromatic lift and counter-intuitively deepens the colour, though we rarely see anything from this region but wines made of pure Syrah. Ironically, I'm pretty sure it was Côte-Rôtie that spurred the subsequent blends of Syrah/Shiraz and Viognier found in other wine regions, like that one time I visited Laughing Stock Vineyards in the Okanagan and tasted a wine that was described of being in the style of Côte-Rôtie.
Fantastic and outstanding. I can't say I've had my generous share of pricey northern Rhône wines, but apparently this drinks similarly to a top-notch Hermitage or Cornas from the opposite end of the northern Rhône. If this is for breakfast then what's for lunch?
Tasting Note:
Eyes: clear, deep ruby, garnet rim
Nose: clean, developing, med+ intensity, earth, mineral, grilled meat, bacon, black fruit, scorched earth, blackberry, smoke, spice, leather
Mouth: dry, med+ body, med acid, med+ intensity, med+ chalky tannin, med+ alcohol, earth, mineral, black fruit, blackberry, long length, savoury
All in all: Outstanding quality: the wine is amazingly complex in its flavours, showing layers of aromas and lasting flavours. The balance between acid, fruit, and non-primary flavours is outstanding. Drink now, not suitable for ageing or further ageing.
Identity Guess: High-priced Cornas from Rhône Valley, France; 5 years old.
Is really: Premium Côte-Rôtie from Rhône Valley, France; 5 years old.
Producer: Delas
Designation: "Seigneur de Maugiron"
Region: France
Sub-Region: Côte-Rôtie AOP, Rhône Valley
Variety: Syrah
ABV: 13.5%
Vintage: 2009
Tasted: November 24, 2014
Price: $100