"Here Comes the Sun" – The Beatles: Leacock's 15 Year Old Medium Rich Bual
Tasting Note:
Eyes: clear, med brown, legs
Nose: clean, pronounced intensity, fully developed, spice, brown sugar, earth, mineral, roasted almonds, caramelized sugar, figs, molasses, hint citrus, coffee
Mouth: medium-sweet, med+ bodied, high fortification, high acid, med+ length, med+ intensity, brown sugar, spice, earth, mineral, roasted almonds, salted almonds, burnt toast
All in all: Outstanding quality: it's unfortunate that Madeira is wildly underrated. This wine has a complex and lasting flavour profile. It has balance, intensity, and concentration.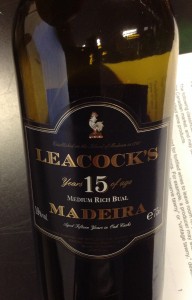 Breakfast in a glass. I'm talkin' flavours of orange marmalade, hints of coffee, a bit of burnt toast (but in a good way), boosted by other complex things involving toasted almonds, scorched earth, caramelized sugar, and figs. Oh boy.
Okay: the "scorched earth" thing sounds stupid and I'm pretty sure I just borrowed that one from somewhere else, but I swear by it on this one! A marked earthiness to complement the whole breakfast theme. So: breakfast outside in the sun.
It's only a mere coincidence that this sweeter Madeira was much more complex than the previous one we had in the flight, but this full-bodied wonder really did give quasi-hallucinations of a Madeira sunrise, with the region coming out of its metaphorical eternal midnight. It's such a shame that this region is practically a shitty half-and-half of haplessly unknown and wildly unpopular, since this was amazingly outstanding while being one of the few wines that would last for ages after being opened. The instructor brought another bottle of the same wine, except that it was opened last year for the same WSET class. Amazingly, it was almost identical (with a bit of a funk, of course), but the ability for Madeira to hold itself up (it's been intentionally oxidized and cooked, anyways) is pretty fantastic.
Perhaps Madiera will suddenly blast out of nowhere like my dad blasted this song on Saturday mornings.
Producer: Leacock's
Designation: Medium Rich
Region: Portugal
Sub-Region: Madeira
Variety: Bual
ABV: 19%
Vintage: NV
Tasted: March 5, 2014
Price: $88