"I Want You (She's So Heavy)" – The Beatles: Alain Graillot 2011 Crozes-Hermitage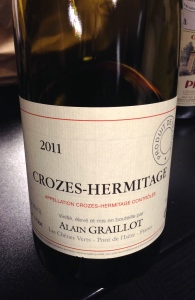 [Tasted during WSET Diploma – Unit 3 – Week 6: Rhône]
We had just three wines in our first flight (this was the third), and all were from the northern Rhône, we were told. The first was obviously a Viognier, but the second and the third were clearly born of the same idea, if not grape. Though the wine was clearly more youthful from just the looks of it, it also smelled more playful than its previous, with more intense aromas of flowers and riper fruit to replace the smoked meat.
Hermitage is the rare and more famous appellation and hill, of course, and even by looking at a map and seeing how Crozes-Hermitage surrounds Hermitage like a donut, we can predict off the bat that slopes here aren't as dramatic. Quality is less consistent for an area that produces around eight times as much wine as its famous hill, and even differing soil types vary from the north to the south. Granitic slopes in the north, more alluvial in the south. Shit, I need to start committing these soil types to memory. I'll picture a Tim Hortons donut that's only been half-glazed, or something.
The wine was delicious. Not as stereotypically *~Syrah~* as the previous, but still pretty damn good, and apparently showing very typical for the appellation.
Tasting Note:
Eyes: clear, deep purple, legs
Nose: clean, youthful, med+ to pronounced intensity, violet, dark fruit, blueberry, blackberry, black pepper, spice, herbal
Mouth: dry, med+ body, med+ acid, med+ chalky tannin, med alcohol, med+ intensity, violets, dark fruit, blackberry, blueberry, long length
All in all: Very good quality: the wine's complex fruit and rustic spice last long on the palate, and structure is balanced with fruit. Perhaps needs a touch more intensity. Can drink now, but has potential for ageing.
Identity Guess: High-priced Syrah from Côte-Rotie, Rhône, France; 2 years old.
Is really: Premium Crozes-Hermitage from Rhône, France; 3 years old.
Producer: Alain Graillot
Designation: N/A
Region: France
Sub-Region: Crozes-Hermitage AOC, Rhône Valley
Variety: Syrah
ABV: 13%
Vintage: 2011
Tasted: November 24, 2014
Price: $50