Bach Cello Suite No.1 in G: Domaine Louis Clerc 2011 Condrieu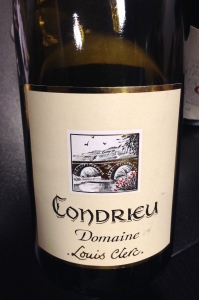 [Tasted during WSET Diploma – Unit 3 – Week 6: Rhône]
I've gone on and on about how I've never had a Condrieu. Huzzah!
If old world Sauvignon Blanc reminds me of a violin solo with taut and delicate strings, old world Viognier reminds me of the cello's smooth purr. Finesse and restrained charm is still there, but if lower pitches strain your ears less, then lower acid does exactly the same for your mouth. California and Australia also enthuse over the grape, but that's where they can get less Bach and more Meghan Trainor.
Condrieu is the classic area for Viognier in France, where the oily wines are balanced with finesse and more structure than their new world equivalents. The appellation only makes whites, and plantings have increased around tenfold from the 60s to the 90s, to the point where further expansion of the appellation is difficult. Gotta milk it if the world gets enthusiastic about your wines, I suppose. Viognier is apparently one of the most fashionable grape varieties at the current moment, but ironically it can sometimes remind me of buttery warm climate Chardonnay.
The wine wasn't amazingly pronounced at first, but aromas of stone fruit, flowers, spice, and hints of oak were found on the nose. Lower acid and an oily body were both typical for the wine, but a bit of finesse and pleasant phenolic bitterness on the finish added balance. What's fascinating is that Condrieu is considered one of the few "great wines" that aren't meant to age – though of course there are exceptions, with the "Burgundian" Château Grillet being the main one. Another wine for the (spit) bucket list.
Tasting Note:
Eyes: clear, med lemon, legs
Nose: clean, youthful, pronounced intensity, floral, orange blossom, stone fruit, peaches, apricot, mineral, spice, cardamom
Mouth: dry, med+ body, med- acid, long length, med+ alcohol, med intensity, mineral, stone fruit, peach, floral, apricot, orange blossom, oily texture
All in all: Very good quality: typicality shows through with voluptuous stone fruit and floral flavours which are framed by the balanced alcohol and the body. The flavours last long on the palate, though a little more complexity is left to be desired. Drink now: not suitable for ageing or further ageing.
Identity Guess: High-priced Condrieu from France; 3 years old.
Is really: Premium-priced Condrieu from France; 2 years old.
Producer: Domaine Louis Clerc
Designation: N/A
Region: France
Sub-Region: Condrieu AOC, Rhône Valley, France
Variety: Viognier
ABV: 13.5%
Vintage: 2011
Tasted: November 24, 2014
Price: $60