The Burger King of Wine: Mouton Cadet Bordeaux 2012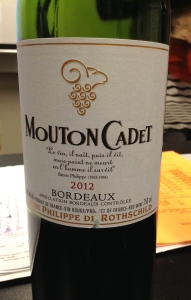 [Tasted during WSET Diploma – Unit 3 – Week 3: Bordeaux]
I predicted that this was Mouton Cadet just because it feels almost integral in a class about Bordeaux, and the profile clicked well: youthful fruit that isn't particularly aromatic or muted, dotted with unripe herbaceous character and a disjointed hint of confection. There's oak, apparently, which is impressive for such a mass-produced bottle, and there's also some earthiness which anchors its identity, at least, to the old world. Though relatively balanced, the wine seems just a bit thin and simple.
I sing the same ditty every time we approach one of these mass-produced wines, and even moreso for the more doctored wines of the world: Mouton Cadet in itself isn't horrid, but neither is it great for the price point. This and Yellow Tail are the ultimate McDonalds-Burger King of wine, if you think about it in terms of marketing and how globally prevalent they are. You're paying for something simple and unrepresentative of something truer and grander. And it's not like McDonalds isn't delicious to the average person – because even I'm prey to a sickening waft of a Filet O' Fish. That being said, I can think of a couple of other Bordeaux wines for this price point that are slightly higher in quality; I can also think of Merlot and Cabernet Sauvignon-based wines from South America that are also much more concentrated.
I suppose consumers are fastened to the name and it'll be a challenge to refine, but I'm optimistic.
Tasting Note:
Eyes: clear, med ruby, legs
Nose: clean, med+ intensity, youthful, hint confection, red fruit, sour red fruit, black cherry, cooked red fruit, plum, hint leafy, hint green pepper, oak, sour cherry
Mouth: dry, med body, med acid, med+ slightly coarse tannin, med alcohol, med flavour intensity, med length, sour red fruit, plum, hint green, hint bitterness on finish
All in all: Good quality: though generally balanced and appropriately intense, the wine comes off as a bit thin and simple. Drink now: not suitable for ageing or further ageing.
Identity Guess: Mid-priced basic Bordeaux (Bordeaux AOC) from France; 3 years old.
Is really: Mid-priced Bordeaux AOC from France; 2 years old.
Producer: Mouton Cadet
Designation: N/A
Region: France
Sub-Region: Bordeaux AOC
Variety: Merlot (65%), Cabernet Sauvignon (20%), Cabernet Franc (15%)
ABV: 12%
Vintage: 2012
Tasted: October 27, 2014
Price: $17