Everyday vanilla Bordeaux, if that's even a thing: Château Lamothe-Cissac Haut-Médoc 2008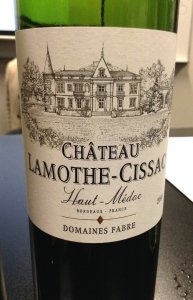 [Tasted during WSET Diploma – Unit 3 – Week 3: Bordeaux]
Among all the wines we tasted this sesh, this was admittedly one of the more forgettable ones, so much that I can't seem to come up with much to write about – it wasn't horrible by any means, but just middling and anything but idiosyncratic. It's an example of vanilla ice cream Bordeaux, I suppose, but not the shitty cheap supermarket brand nor ice cream with vanilla harvested by blind nuns in a remote area of Mexico.
The wine had a lighter body, a bit of bitterness, and a bit of heat on the finish making me dismiss this as a simple mid-priced generic Bordeaux. Despite simplicity and having some sort of kink in the braid, the wine had lasting flavours. It's peaking, for sure, and apparently this style of youthful-to-developing Bordeaux is popular in the UK as sort of an everyday beverage sort of deal. Mine is beer.
I suppose the lack of juicy texture can be attributed to a Cabernet-dominated blend, and tannin is still quite perceptible both because of the burly grape and the intrinsic quality of the 2008 vintage.
Tasting Note:
Eyes: clear, med ruby, legs
Nose: clean, med+ intensity, youthful, dried red fruit, plum, black cherry, oak, earth
Mouth: dry, med- body, med acid, med+ fine tannin, med- alcohol, med flavour intensity, earth, hint bitterness, med+ length, oak, plum, black cherry
All in all: Good quality: intense and expressive flavours last above average on the palate, but said flavours are relatively simple and are without heavy concentration. Drink now: not suitable for ageing or further ageing.
Identity Guess: Mid-priced Bordeaux from France; 2 years old.
Is really: High-priced Haut-Médoc from Bordeaux, France; 6 years old.
Producer: Château Lamothe-Cissac
Designation: N/A
Region: France
Sub-Region: Haut-Médoc, Bordeaux
Variety: Cabernet Sauvignon (58%), Merlot (35%), Petit Verdot (5%), Cabernet Franc (2%)
ABV: 12.5%
Vintage: 2008
Tasted: October 27, 2014
Price: ~$28