Movember: Château La Serre Saint-Émilion Grand Cru 2010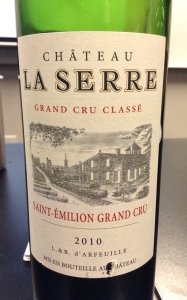 [Tasted during WSET Diploma – Unit 3 – Week 3: Bordeaux]
Okay. So it's clear that I didn't know as much about wine as I do now if we recall my 20-year-old self. Let's just let that old blog post sink in. I can't find myself to delete or change it because it's a valid thought in my wine journey: can't you see newcomers finding Saint-Émilion boring?
Saint-Émilion is an appellation on the right bank of Bordeaux, where Merlot is king. Saint-Émilion and Pomerol are the well-known and most prestigious areas in the right bank, where Merlot arguably finds itself in its most concentrated form. As we would soon find out, Saint-Émilion is the gutsier wine of the two appellations, and is supposedly less obviously from the right bank than is Pomerol. This is easy to believe with the chalky texture, high acid, dark plum, dark berry fruit in this wine, along with the oak that largely expresses itself with dark chocolate. There is no Cabernet Sauvignon in this wine (but there is 20% Cabernet Franc), perhaps accounting for the supremely lush and almost full body, but despite hot alcohol and an almost-perfect finish, the wine is quite intricate and well-adjusted. There's a bit of added robustness from this interesting metallic earthy iron clay note in this wine which I know may put off some, but it's sewn quite well in this wine – and its apparently indicative of the region, which brought me to guess Saint-Émilion.
It's sort of like a furry hug in a bottle, like a friendly bear that comes up to hug you, or something like an alcoholic beard prequel to Movember that isn't a weird hipster cocktail. Bearded people aside, the wine has a cozy gruff quality to it, which isn't surprising for a powerful vintage renowned in Bordeaux for its structure and fruit.
Tasting Note:
Eyes: clear, deep ruby, legs
Nose: clean, youthful, med+ intensity, mineral, earth, clay, iron, black fruit, blackberry, black cherry, dark chocolate, oak, fruitcake, hint of meat
Mouth: dry, med+ body, high acid, med+ chalky tannin, med+ alcohol, med+ flavour intensity, earth, black fruit, blackberry, dark chocolate, mineral, oak, med+ length
All in all: Very good quality: this superlative Saint-Émilion just lacks the slightest in length, but excels in all of balance, complexity, and intensity. Can drink now, but has potential for ageing.
Identity Guess: Premium Saint-Émilion from Bordeaux, France; 4 years old.
Is really: Premium Saint-Émilion from Bordeaux, France; 4 years old.
Producer: Château La Serre
Designation: N/A
Region: France
Sub-Region: Saint-Émilion, Bordeaux
Variety: Merlot (80%), Cabernet Franc (20%)
ABV: 14.5%
Vintage: 2010
Tasted: October 27, 2014
Price: $78