Wooly Bully: 2009 Domaine des Baumard "Clos Saint Yves" Savennières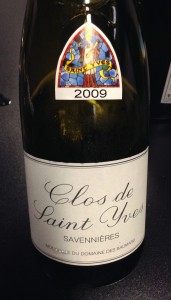 [Tasted during WSET Diploma – Unit 3 – Week 2: Loire Valley]
One of my wine friends convinced me to buy a Savennières for Thanksgiving. I was really on the fence on spending that much on a wine (school is expensive!), but through several points including celebration, treating myself because of my new certification, and Thanksgiving itself, I decided to go for it. And so I slowly nursed a bottle of 2007 Domaine des Baumard Trie Spéciale to myself on (Canadian) Thanksgiving. I'm sure no one else around me would have enjoyed a bottle that tasted like cream of mushroom and delicious wet winter sweaters.
Savennières is a small appellation in the northern part of Anjou, where dry and concentrated wines from Chenin Blanc are made. Other appellations like Quarts de Chaume, Coteaux du Layon, and Bonnezeaux in the southern parts of Anjou typically make sweeter versions, so Savennières is almost like the weird dry anomaly. It used ti be sweeter in the past, and legally, I still think it can, but why do that, when you can make something weird, dry, and full-bodied, like me?
Here we revisit another one of Baumard's wines – one which I've had several times within the past few years. Perhaps I was just in a theatrical mood but my eyes did roll to the back of my head when I tasted it. It's lusciously strange – much like the 2007 Trie Spéciale, it has a full mushroomy body with lots of mineral, wet wool, and hints of fruit. A classmate asked the instructor whether or not this could age, and she passionately responded "of course!", and how the wine is currently only starting to show hints of development. The wine is apparently unappetizing at an age less than 7 years, but I suppose this truism can be bypassed for such a great years like 2009.
Compared to the 2007 Trie Spéciale, this wine is a bit lighter on the nose and slightly lighter on the palate, but is still full-bodied. Like the 2007, the acid isn't as super high as I expected, but perhaps this wine is part of the modern camp of Savennières that are made to mature quicker. Killer for $35.
Tasting Note:
Eyes: clear, pale lemon, legs
Nose: clean, med+ intensity, developing, cream, mushroom, green fruit, green apple, citrus, wet wool
Mouth: dry, full body, med+ acid, med alcohol, med+ flavour intensity, long length, cream, mushroom, wet wool, mineral, green fruit, citrus
All in all: Very good quality: just-developing flavours of intense minerality and mushroom linger in the mouth with a fair bit of concentration. Balance is quite good, though more time in bottle will reveal more complexity. Can drink now, but has potential for ageing.
Identity Guess: High-priced Savennières from Loire Valley, France; 4 years old.
Is really: High-priced Savennières from Loire Valley, France; 5 years old.
Producer: Domaine des Baumard
Designation: "Clos Saint Yves"
Region: France
Sub-Region: Savennières AOC, Loire Valley
Variety: Chenin Blanc
ABV: 13%
Vintage: 2009
Tasted: October 20, 2014
Price: $35