Cream of Mushroom Wasabi: 2007 Domaine des Baumard Savennières Trie Speciale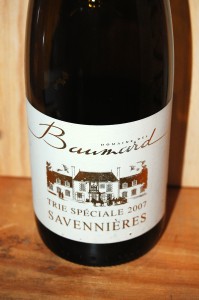 Wasabi, out of all things, is the flavour benchmark that Master Sommelier Emily Wines gets out of Savennières. As if "earthy" and "mineral" weren't strange enough to describe to people, we arrive at a wine that's so weird – yet so classic – that it's bound to split people in the middle like the burning tire and ash-scented South African Pinotage. Savennières is an appellation from the Loire Valley in France that produces dry, concentrated, and fundamentally non-fruity wines from Chenin Blanc, and Baumard makes exceptional and superlative examples described by Jancis Robinson as "a wine for intellectuals, not neophytes." That's the most shade I've ever seen anyone throw from within an encyclopedia.
It's one of those wines that's hard to put into words: so much, that it almost sounds disgusting on paper, but experiencing the wine – without sounding too ridiculous about it – really is sort of otherworldly. Not in a superficial spiritual sense, but in a way where you're questioning how the fuck a wine could smell and taste like cream of mushroom soup.
I understand the wasabi note that manifests itself from the mineral, wet wool, and savoury notes you typically get from dry Loire Chenin Blanc. It's just much more concentrated here, with fruit playing second or even third fiddle, the nose posing much more wet wool in its place, and to a lesser extent, cream of mushroom and slightly oxidative scents. It's a wine that's apparently undrinkable in its youth and takes years and years for it to even blossom, and I believe it, but I wonder how much faith and time it took to figure out the secrets of dry aged Chenin. It's like the Feebas-Milotic of wine, and if you understood that, that's all you really need to know.
The palate is full-bodied, but the wine isn't as high in acid as I expected for a Savennières that's relatively early in its journey. The alcohol is a bit evident on the finish, but can be forgiven with the lush and developing flavours of cream, mushroom, and mineral on the palate. The wine's center is quite savoury and it ends slightly bitter and floral, but they intertwine with the hints of mushroom and mineral flavours well onto a long finish. During some research, I now understand the common tasting note of there being some lack of uplift.
Andrew Jefford describes this particular wine as one that "[rivals] Corton-Charlemagne and Montrachet; dense, glycerous and flavor saturated packed with honey nuts and flowers." I can't say whether or not this is an exaggeration because I haven't had my fair shares of Corton-Charlemagne or Montrachet (you can't spell Montrachet without ratchet! *slow clap*), but I can say with certainty that this is pretty damn good for half or a third of the price of the purported Burgundian counterparts. Liquid mushrooms, wet wool, wasabi, and stones never tasted so delicious. But only if you're not a n00b, according to Jancis.
Tasting Note:
Eyes: clear, med lemon, legs
Nose: clean, pronounced intensity, developing, mineral, wet wool, hay, hint butterscotch, white flowers, hint ripe apple, hint white peach, mushroom, spice, white pepper
Mouth: dry, full bodied, med+ acid, med+ alcohol, med+ intensity, mineral, earth, mushroom, cream, floral, slightest hint of butterscotch, bitter finish, long length
All in all: (Very good to) Outstanding quality: despite there being more time for this to develop, the wonderful lush and complex flavours of this wine show through a creamy and mushroomy flavour profile, leaving further developmental flavours to the imagination. The ending floral and slightly bitter flavours have a lengthy persistence, but the alcohol leaves a bit of a mark. Drink now, but has potential for ageing.

Producer: Domaine des Baumard
Designation: Trie Speciale
Region: France
Sub-Region: Savennieres AOC, Anjou, Loire Valley
Variety: Chenin Blanc
ABV: 13.5%
Vintage: 2007
Tasted: October 12, 2014
Price: $50