Wine Bloggers Conference 2014 – The back of the bottle; the odds and ends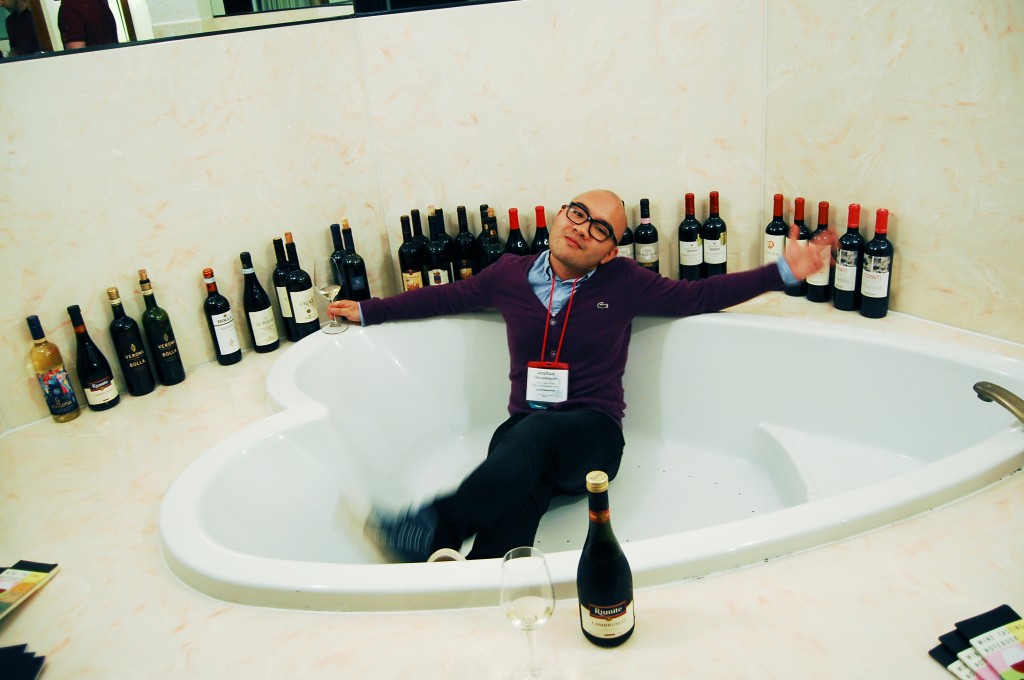 This was my first Wine Bloggers Conference – I partially regret not going last year, but at the same time, I justified my absence because my co-worker attended, so I thought work wouldn't let us both take time off. Ironically, the bulk of us are on vacation in a couple of weeks.
Last year's conference was in Penticton, i.e. it was literally super close to home, so I really do deserve a slap on the wrist for missing that one. I couldn't resist not going to attend this year's conference in Santa Barbara – first, California. Wine. Hi. Second, it would provide me with a fabulous answer for anyone that would ask what I was up to this summer, and I wouldn't have to come up with a fancy complicated way to say "nothing". Easy sell!
It was an intense whirlwind of wine, people, and vineyards. I figure that the only way to neatly communicate what I've taken away from the conference is to do some sort of David Letterman slash Buzzfeed-esque top 10 countdown. Dreadful! I'm doing it anyways, just like that cheap 1L bottle of plonk I bought last week. I swear, I was holding it for a friend!
10) I'm a travel n00b.
I can name the 60-something châteaux of the 1855 Bordeaux classification, but watch me get lost in a large airport. I don't travel very often. I could, but the angel on the shoulder of my wallet says I probably shouldn't, and so I'm definitely in a sea of complete unknownness when it comes to travelling alone. Thank God for fellow wine friends Valerie and Donita for being my partners during the trip. LAX was a weird Pan's Labyrinth of an airport with odd terminals and airport announcements that for some reason sounded like grumbled up horror movie ransom audio, but fortunately we found the correct terminal that would take us to Santa Barbara. Donita was a former travel agent, so her patience while guiding me through travel stuff on the phone – weeks before the trip – was awesome. Gold stars and hugs for you both!
What sort of person doesn't say they've been bitten by this stupid proverbial travel bug after a good trip? Come a couple weeks time, I'm heading off to see more wine country. It's time for the Okanagan – I'm really just making up for lost time (and drunkenness) last year.
9) Networking! I suck at it. I'd be better at net-twerking.
Perhaps I'm shooting myself in the foot for even mentioning this. Greetings, potential employers!
Naw, I'm just not used to it. Getting my business cards in the mail evoked a slightly adult-like sensation despite my blog's dopey logo on the front. Huzzah – these were the bits of Josh I'd give out to people.
Don't get me wrong – I like people, I like talking to people, I'm not afraid of talking to people. But the oft-insincere action of meeting someone for thirty seconds and then moving on to the next person for the sake of getting a business card weirds me out. It's even cringeworthy when you're seeing it happen and the people are definitely tossing around fake giggles and smiles while they shamelessly try to shove their product down someone's throat.
But I'm sure I'm just being a complete ass about the whole thing. Maybe I'm repressing a hilarious memory that'll make for an embarrassing story. That sounds about right.
8) The scholarship perhaps means there was something worth looking at.
I really didn't think I would get anything out of applying for the scholarship. I went for it anyways to see what would happen – I eventually got chosen, which was awesome – like 15-minute-dance-party-at-1AM awesome. And I really really really hate to sound like I'm being self-righteous here, but the fact that I was chosen perhaps means that someone on the scholarship committee saw something in me, perhaps a thing that can be eventually moulded into something useful or cool. Something Tyra Banks would give me a sassy motivational speech about. I don't know. But I sure did feel fuzzy inside.
There's really not a modest way of talking about what the scholarship means to me. I'm a young wine student who works in wine retail, with a dopey blog in a wine world full of wine businesspeople and cool sommeliers. Conferences like this, I realize (e.g. see #4) help me not only learn about wine and the regions of focus but help realize how I fit – and how I want to fit – in the industry. You can buy wine, but experience is a tough thing to get your hands on. So I'm grateful for this whole experience, really.
And to that, I once again thank the sponsors for the experience and the motivation to do something great instead of sitting in my pyjamas on my laptop at 3PM. Instead, I can sit down in my pyjamas on my laptop at 3PM with a glass of wine and be motivated to write something awesome. My only regret is that I only got to meet some of you and not all of you.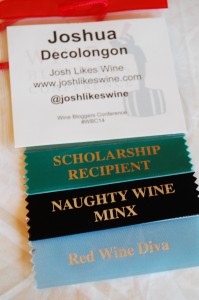 7) Tasting wines quickly is a skill; so is not spilling anything on your laptop.
Okay – so WSET Diploma tasting exams are timed, and so are tasting exams (verbally for the higher levels) for the Court of Master Sommeliers. Enter the speed tasting event of the WBC. Along with tasting concisely while attempting to listen to the wine reps and forming a hopefully witty tweet around a wine, there's the added challenge of not spilling anything on your laptop. I was thankfully successful, unlike that 10-dollar Cabernet Sauvignon incident of November 2012 nor the Belgian Rye IPA incident of a couple of June 2014. I think that in those cases I definitely wasn't drinking fast enough. Or maybe I should stop placing my glasses right in front of my laptop and being a klutz.
There was also a mini party in our room with 80s music playing on my laptop – it's a wonder nothing spilled on my laptop due to (my) flailing arms during anything Madonna-related.
6) We're hungry. For love. And wine, but also food.
i.e. Carl's Jr. runs at 3AM.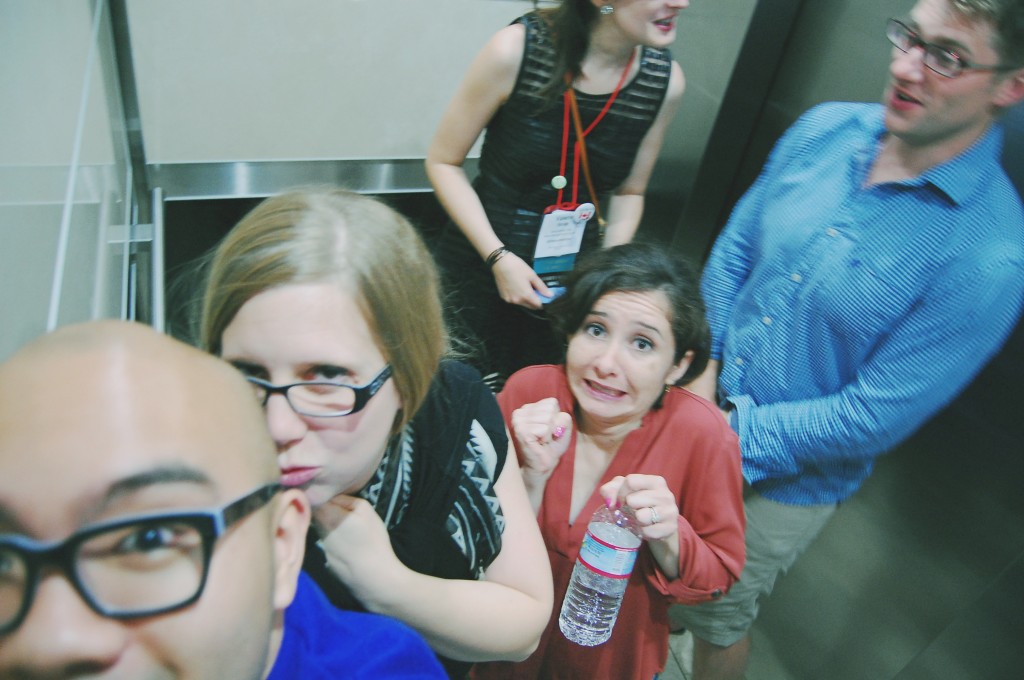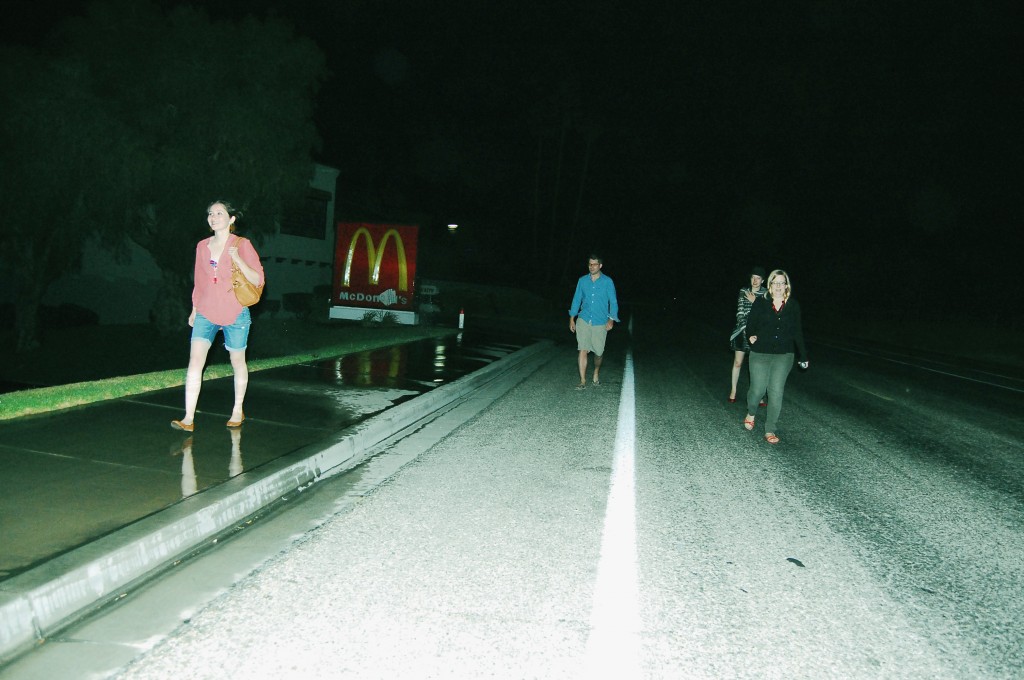 5) California has cute little hot pockets.
Sure – there's Napa, there's Sonoma. That's what people think about when the idea of Californian wine comes to mind, with matching big jammy reds and heavily oaked and creamed corn-scented Chardonnays to boot. I wasn't sure exactly what to expect when planning to march off to Santa Barbara, but I guess that was the point – to explore a smaller and quieter region with more finessed and refreshing whites, to the grittier reds that still contained the new world spirit of California.
I suppose with a smaller region and even smaller appellations (like the one my bus explored, Happy Canyon AVA), there's a really cool sense of support and camaraderie between the handfuls of wineries that are in each small region. That's definitely one thing I enjoyed.
4) Maybe I need to have more aim. Katniss?
The keynote speech of the Wine Bloggers Conference seems like the de facto sit-down event of the conference. I wasn't exactly sure what to expect, and I was looking forward to it, but for some reason, sometimes listening to motivational speeches gives me the creepy crawlies. So my ease sort of melts away during the keynote speech, and I'm sitting there questioning everything while mostly everyone's eyes light up like they're being fed inspirational lightbulbs.
There's the usual stuff – welcome to the conference, it's been going strong for 7 years, my name is Corbett Barr, etc. We learn how blogging is different for wine compared to other subjects that are blogged about: few earn a living compared to other subjects, the wine blogging community isn't as tight, there aren't as many industry-level bloggers, and the number of leaders are relatively few. We come to the hopeful conclusion that wine blogging isn't at its "golden age", and we address certain roadblocks and ways to overcome them.
I find it difficult to identify with the bulk of these roadblocks simply because my "mission" is mostly embryonic or simply nonexistent. Two years ago, my blog started off as a collection of tasting notes that veered into the direction of reviews, but eventually levelled off into a goal of nihility. My blog was – and perhaps still is – a dimly lit closet made up of one part scrapbook and one part diary, and whoever decided to peer into its dusty contents was surely welcome. But I do it for no direct "purpose", which is perhaps why my About Me page seems like a bit of an egotistic and malformed resumé without any sort of promise of provision.
My blog mostly just serves to be some sort of weird egotistic extension of self. So much that these solutions to addressing said "roadblocks" feel like we're trying to find ways to change who I am. Which obviously wasn't the message, but the speech evoked a big Question that'll be the next big Thing I'll have to address: do I need a more direct mission or direction? Should my blog be more like something else or less like another?
Maybe, maybe not. Maybe what my life needs is a dramatic soundtrack.
3) Meeting the people behind the wine is fantastic.
One of my favourite events was the excursion out to Happy Canyon. My wine education has mostly geared me towards being interested in the wines themselves. Click on a random blog post and there's a good chance that I'll talk about the wine and not the people behind it – so getting to interact with people who actually get the juice into the bottle was really cool. James Conaway, one of the writers on the panel of wine writers, accentuated the importance of focussing on people from a wine journalist's point of view.
Come the second night, I didn't realize that my late-night crew included Jon, winemaker of Hand of God wines. I was fortunate enough to try his wines before he had to jet off early, which was unfortunate. I also vaguely remembering all of us dancing to Get Lucky at some dive bar a couple blocks away from our respective hotels at 2AM.
2) There is room for wine-writing diversity.
A lot of people seemed to be irked by the panel of winemakers and the panel of wine writers. A lot of people made blog posts about how there wasn't enough diversity on the panels, or in the case of the wine writers, not enough diversity in their respective communicative media, wine education, gender, and so on. At the same time, this really made me smile in the slightest, because perhaps it means that there's so much more room for the global group of wine writers (and wine people in general) to grow. And I don't mean to sound like an inspirational commercial that at one point has a picture of the earth and fancy string music, but there's so much potential for unique voices to come forward in a community that according to Corbett Barr, hasn't reached its golden age. I believe it.
1) You will meet the coolest people.