Overly Attached Girlfriend: 2012 Arnoux Trésor du Clocher Muscat de Beaumes de Venise
Tasting Note:
Eyes: clear, pale lemon, legs
Nose: clean, pronounced intensity, youthful, mineral, grapey, floral, orange blossom, stone fruit, peach, ripe apple, pear
Mouth: sweet, med body, low acid, low fortification, med+ flavour intensity, gummy bears, floral, hint bitterness of finish, stone fruit, med length
All in all: Good quality: the wine is a bit cloying, though this is expected. It's concentrated and intense, though also almost too direct an one-note as a result. Drink now, not suitable for ageing.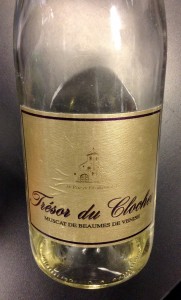 Muscat is almost so unmistakable that some wines that it makes are sort of like archetypal stock characters. Meme-like, in a sense, hence the whole Overly Attached Girlfriend sort of thing, where this wine literally smells like a bouquet of orange blossoms, fruity perfume, candy, and it also seems to not want to completely release from the back of your palate in a bit of a partially cloying frenzy.
(A bit of a paint-thinner spirit-y thing on the nose which I get from many Muscat vins doux naturels, which I'd like to think only adds to my comparison.)
The wine is a solid good quality – there's doubtless concentration and intensity in this fortified Muscat wine, but it's a bit syrupy and one-note. But that's the thing: everyone in the class seemed to mercilessly bully the wine in a way that some people poke at Michael Cera with a long and awkward stick for being the same person in all of the films he's in. But the instructor reminded us that we can't always damn Muscat for making slightly lower acid and cloying wines, because that's sometimes just the way it is, and that's just how it typically exists as a grape.
That being said, Muscat de Beaumes de Venise – which is essentially partially fermented Muscat whose journey in conversion from sugar to alcohol has been interrupted by grape spirit and is therefore sweet – is similar to Prosecco in the sense that you're mostly going to run into styles that belong to the "good quality" designation. They rarely fall into the "very good quality" designation, and they're next to never in the "outstanding quality" designation. And that's just how it is.
Producer: Arnoux
Designation: "Trésor du Clocher"
Region: France
Sub-Region: Beaumes de Venise AOC, Rhône Valley
Variety: Muscat
ABV: 15.5%
Vintage: 2012
Tasted: March 5, 2014
Price: $35