Dita Von Teese: 2011 Jean-Marc Lafage Maury Vin Doux Naturel
Tasting Note:
Eyes: clear, deep ruby, legs
Nose: clean, pronounced intensity, youthful, chocolate, chocolate-covered cherries, black cherry, red fruit, dried fruit, black fruit, earth, mineral, blackberry, RASPBERRY
Mouth: sweet, med body, low fortification, med acid, cherry, raspberry, black cherry, cherry cola, black forest cake, chocolate, pronounced flavour intensity, med+ length
All in all: Very good quality: this fortified wine has an intense and almost archetypal flavour profile. Balanced and concentrated, but could have more complexity. Drink now, not suitable for ageing.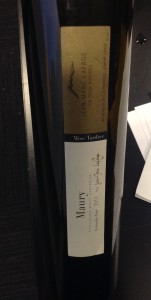 I honestly don't know much about Dita Von Teese. But she was one of the first things that came to mind when I was trying to come up with something or someone that resembled the fluid and seamless character of this sweet and heady wine, while also having some form of direct intensity. It's sort of like liquid velvet. It's a curvy and seductive wine.
The wine is fortified Grenache, so, much like the previous wine in our flight, the wine's process of fermentation had been halted by the fun addition of grape spirit which left it sweet, sort of like when I take several shots of vodka and end up being fun. The joke's on you, sucka!
The aromas are quite pronounced and they easily glide up the nasal cavity to reveal flavours of chocolate, chocolate-covered cherries, black cherries, and a distinct flavour of raspberries and black forest cake. The palate is similar, but there's a bit more acid than I expect from something Grenache-based (and definitely unlike the fortified Muscat we had previous to this one) which gives it a bit of teasing structure. The palate is just as loud as the nose with the intensity of flavours, and the medium tannins are very fine-grained and soft.
Again with the velvet thing. (I wrote it like 9 times in my notes.)
Producer: Jean-Marc Lafage
Designation: N/A
Region: France
Sub-Region: Maury AOC, Roussillon
Variety: Grenache
ABV: 15%
Vintage: 2011
Tasted: March 5, 2014
Price: $43