"The One That Got Away" – Katy Perry: Gonzalez Byass "Apostoles" VORS
Tasting Note:
Eyes: clear, med+ amber, legs
Nose: clean, med+ intensity, fully developed, nuts, caramel, brown sugar, peanut butter, hint brine, yeast, almonds, earth, hint prune
Mouth: off-dry, full-bodied, med acid, high fortification, pronounced intensity, grilled almonds, roasted almonds, salted almonds, med length, dried citrus, toffee, caramel, hint peanut butter, briny, fleshy, long length
All in all: Outstanding quality: this Palo Cortado-style sherry has wonderful concentration and intensity; the balance is also great considering the bit of sweetness and viscosity; and the complexity sings with main cornerstones of salted almonds, roasted almonds, and a bit of peanut butter. Drink now, not suitable for ageing.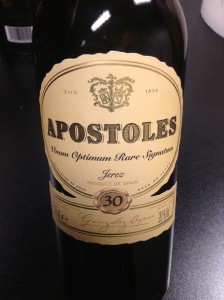 [Tasted during WSET Diploma class – Section 2 – Week 7]
That's right. I'm pairing Katy Perry with sherry, out of all things. Most of her songs scream Prosecco, Moscato, or fresh and fruity, but then there's this little guy, who isn't without a touch of sweetness anyways.
The wine is interesting and hits notes somewhere in-between two wide styles: Fino sherry, embodying the fresh exciting savoury newness that induces hunger, and Oloroso sherry, which is the nutty and more oxidized blanket of sugarless caramel. This wine has some of that exciting Fino freshness, but it's framed by an aged and nostalgic frame of grilled nuttiness. The parts of freshness and reminiscence both come together to make this interesting narrative of cool disjointedness, hence "The One That Got Away".
(That is, if you imagine that Katy Perry was mostly singing about protective yeast cells and Fino sherry.)
This wine is a Palo Cortado-style wine, but has since lost the ability to carry the designation from the bit of sugar that it carries (from backsweetening). These wines start off as the flor-blanketed Fino (or destined to be an aged Amontillado), only to have the flor die in the process and have the partially-briny sherry become more oxidative and dark in character. The yeast that got away. I guess that's an even better thing depending on the circumstance.
The wine was delicious, and even more so when we compared the rest of the wines in the flight back to this one. Concentrated aromas of grilled salted almonds, toffee, and – I swear by it – a hint of peanut butter. It's the wine to replace buckets of post-breakup ice cream once you feel you're too cool for that. (And you never really will be, anyways.)
Producer: Gonzalez Byass
Designation: "Apostoles"; VORS
Region: Spain
Sub-Region: Jerez
Variety: Palomino; Pedro Ximénez
ABV: 20%
Vintage: NV
Tasted: February 19, 2014
Price: $34.95