"Last Friday Night (T.G.I.F.)" – Katy Perry: NV Martini Asti
Tasting Note:
Eyes: clear, pale lemon, bubbles
Nose: clean, pronounced intensity, youthful, floral, grapey, stone fruit, canned peaches, honeydew, melon
Mouth: sweet, med- acid, med body, delicate mousse, med+ flavour intensity, med length, med- alcohol, candied peach, floral, grapey, stone fruit, hint mango
All in all: Acceptable quality: though there is an intense Moscato flavour on both the nose and palate, the wine lacks acidic balance, complexity, and persistence. Drink now; not suitable for ageing.
Identity Guess: Mid-priced Non-Vintage Moscato from Piedmont, Italy.
Is really: Inexpensive Non-Vintage Moscato from Piedmont, Italy.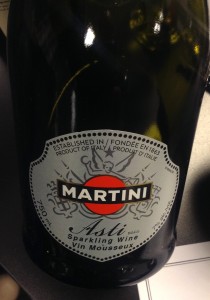 [Tasted during WSET Diploma class – Section 2 – Week 3]
Moscato absolutely slays me. I know I'm supposed to be a seasoned WSET Diploma student who learns to cringe at its presence and be as critical to its sweetish facades like a disciplinarian parent to a disobedient child, but it's so hard. I can't help the fact that I'm still a young adult who occasionally craves a promiscuously sweet beverage from time to disgraceful time.
I once saw this bottle on the windowsill of a fellow collegiate's dorm room – so it's one of those bottles of wines. I've also had several requests to bring this bottle back (or variants) to wine tastings at UBC, which is understandable yet tricky, because the subsequent vexing puzzle is to find a transition to a better quality sparkling that still remains affordable. No matter how many people swear that this is the best thing they've ever had.
Pair with "Last Friday Night" by Katy Perry (genuinely). Because it's still a fun wine! (Ugh.)
Half of the class thought this was acceptable quality, but I'm part of the camp who placed it into the good. I shamefully underestimated the sweetness and overestimated the acidity, but that's where it sort of ends. The wine wasn't particularly persistent nor complex and the balance is a bit off-centre. But there's definitely character.
It's tough to make a dreadfully horrible Moscato, so I guess the grape has that going for it.
Producer: Martini
Designation: N/A
Region: Italy
Sub-Region: Piemonte
Variety: Moscato
ABV: 7%
Vintage: NV
Tasted: January 22, 2014
Price: $14