"Starlight" – Muse (Vitamin String Quartet Cover): NV Le Mesnil Blanc de Blancs Champagne Grand Cru
Tasting Note:
Eyes: clear, med gold, bubbles
Nose: clean, med+ intensity, developing, mineral, citrus, lemon, ripe apple, yeast, autolysis, biscuit, brioche
Mouth: dry, creamy mousse, med body, med+ acid, med+ length, med alcohol, med+ flavour intensity, nuts, apple, citrus, lemon, mineral, bread, nuts, autolysis, bread, brioche, not super toasty
All in all: Very good quality: the sparkling wine isn't super autolytic though the traditional method complexity is there. There is a fair amount of intensity along with a long length. Drink now, not suitable for ageing.
Identity Guess: High-priced Non-Vintage New World Traditional Method Sparkling.
Is really: Premium Non-Vintage Champagne.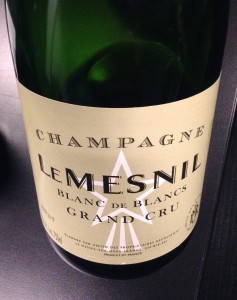 [Tasted during WSET Diploma class – Section 2 – Week 5]
Not fair. If you put this wine right after a toastnutbomb-y vintage Champagne, of course I'd get it wrong. If the previous wine was a grand orchestral number, this one is more of a string quartet. Acid is a little more austere and malic-driven (yet still not entirely high), autolytic components are not as wildly pronounced, and the wine as a whole seems a bit more comparatively more uptight and taciturn.
Pair this with "Starlight" by Muse, but the Vitamin String Quartet Cover. This version is shamefully on the possible list of songs to get married to if it ever happens. Did I ever tell you about that one time I was so bored in one of my university classes that I made a wedding reception seating plan for all the people I wanted to invite? I'm so lame.
At first I thought acid was lower than it was, at a mere medium level, but second sips brought me up to a medium-plus which is still on the lower side on the Champagne acidity scale. Though yummy, the contrast to the previous wine and the overall medium-toastiness led me to venture a New World traditional sparkling guess. I was obviously wrong, but it's no wonder that it was designated as Best in Show for the Vancouver Magazine Wine Awards (vintage 2014) for superb value. The article on the wine suggests that "smart drinkers will stock up for the year." Don't tell me what to buy! But I'll probably buy this.
I don't think the star on the label is completely invalid – unlike the grand moon that was the previous sparkling wine, this wine sparkles subtly more than it commands attention. And though it has a rigid Champagne backbone, the bit of roundness from the lower acidity and slightly riper fruit gives it a bit of a modern and more crowd-pleasing twist. You know, for weddings and shit.
Producer: Le Mesnil
Designation: Blanc de Blancs; Grand Cru
Region: France
Sub-Region: Champagne
Variety: Chardonnay
ABV: 12.5%
Vintage: NV
Tasted: February 5, 2014
Price: $55