"What I Like About You" – The Romantics: NV Adami "Vigneto Giardino" Valdobbiadene Prosecco Superiore Dry
Tasting Note:
Eyes: clear, pale lemon-green, bubbles
Nose: clean, med intensity, youthful, mineral, candied green fruit, green apple, pear, hint citrus, sprite/7-up
Mouth: off-dry, creamy mousse, med acid, med- body, med- alcohol, med+ flavour intensity, med length, mineral, candied green apple, pear
All in all: Good (to very good) quality: this unmistakable Prosecco is intense in its Prosecco-y characteristics, has a creamy mousse, and a balanced mouthfeel. Though wholly fresh, the acid could be a tad higher. Drink now, not suitable for ageing.
Identity Guess: Mid-priced Non-Vintage Prosecco from Italy.
Is really: High-priced Non-Vintage Prosecco from Italy.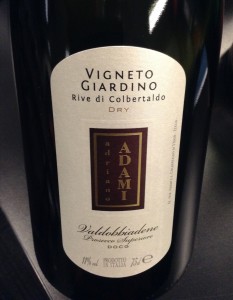 [Tasted during WSET Diploma class – Section 2 – Week 5]
Prosecco – Its intrinsic liveliness at its best always reminds me of the music that you find yourself jamming to no matter who you are. So if I could drink at work, I would definitely pair this with the moments where I don't notice a customer staring at me while I'm dancing and half-singing. I'm shameless, and the best customers join me.
I'm sometimes a bit harsh with Prosecco, because it's difficult when you detect that bit of sugar in sweeter versions. You then have to align and map the sweetness along with the obvious Prosecco-ness against the acidity, concentration, and other flavours while determining the quality. I underestimated both the Prosecco we had weeks ago along with this one.
This is the second-ever wine I've had from Adami and it was an example of a fantastic off-dry Prosecco. Though I prefer Adami's Extra Dry for better balance, the producer as a whole makes fantastic examples of higher-quality Prosecco.
There was a bit of a discussion where it's generally accepted that Prosecco will almost never be prodigiously complex, and we find that it's almost always dominated mostly by its green apple and ripe pear fruit, complemented by the mineral tones and other fruits at its best.
So at the top, where the best Prosecchi battle, we not only judge them by their small edges of complexity, but mostly – I find – by mouthfeel, balance, and concentration. And it's tough. Though it fits into a specific camp of sparkling wine, more producers are experimenting. I've tasted a still Prosecco before (which I remember being mostly clean and gimmicky), and I've heard whispers of producers who are dabbling with the traditional method.
Dance break.
Producer: Adami
Designation: "Vigneto Giardino"
Region: Italy
Sub-Region: Prosecco Valdobbiadene Superiore DOCG, Veneto
Variety: Glera
ABV: 11%
Vintage: NV
Tasted: February 5, 2014
Price: $36