That one song you secretly like but aren't supposed to: NV Valdo "Marca Oro" Valdobbiadene Prosecco Superiore Extra Dry
Tasting Note:
Eyes: clear, pale lemon-green, bubbles
Nose: clean, med intensity, youthful, mineral, green apple, pear, citrus, hint herbaceous, flint, floral
Mouth: off-dry, aggressive mousse, med acid, med- body, med- alcohol, med flavour intensity, green apple, mineral, citrus, pear, hint herbaceous, med+ finish
All in all: Good quality: the wine has structural balance and a relatively long finish, though the flavours are a bit simple and delicate. Drink now; not suitable for ageing.
Identity Guess: Inexpensive Non-Vintage Sekt from Germany.
Is really: Mid-priced Non-Vintage Prosecco from Valdobbiadene Superiore DOCG, Veneto, Italy.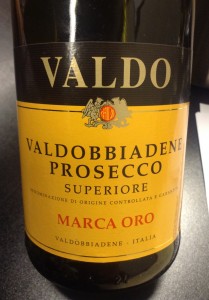 [Tasted during WSET Diploma class – Section 2 – Week 3]
Okay so for some reason I flat out thought this was lower quality than it was. I would like to go ahead and apologize to this wine, who did nothing but try to please me with its bubbly goodness.
But it all seemed to fall into place – the straightforward and reserved primary fruits were adjoined with a small caboose of herbaceous character (out of place?) that the instructor also picked up on, but structure seemed wobbly and length seemed shorter than I thought. And there was a bit of sweetness, but we were reminded that subtle sugar is not an all-encompassing sign of bad quality. And so I hung my head in shame.
It's that one song on the radio that you secretly like but aren't supposed to. I will admit to having had a One Direction song on my phone. I deleted it because I got bored of it. Every time it played on my phone I would remove one earbud to make sure it wasn't so loud such that that everyone around me could hear it – a couple of years ago, my iPod accidentally went on full volume during a Miley Cyrus song.  I didn't look up the entire trip home on the bus and my neck hurt afterwards.
I wasn't the only one who pegged this wine as acceptable, I'm pretty sure. And it's ironic, because I've heard some wine mavens question Prosecco's popularity, while I'm usually the one silently defending it. And there I was, denouncing it in brown ink. For shame!
Apparently, the grape has an intrinsic bitterness which the sugar helps to soften. Prosecco is sort of the new hip sparkling thing, and I'm pretty okay with that.
Producer: Valdo
Designation: "Marca Oro"
Region: Italy
Sub-Region: Prosecco Valdobbiadene Superiore DOCG, Veneto
Variety: Glera
ABV: 11%
Vintage: NV
Tasted: January 22, 2014
Price: $21