"Symphony No. 40 in G minor, K. 550" – Mozart: 2002 Pierre Paillard Champagne Grand Cru
Tasting Note:
Eyes: clear, med+ gold, bubbles
Nose: clean, pronounced intensity, developing, ripe red apple, autolysis, citrus, lemon, nuts, butter, hint tropical fruit, bread, caramel, mushroom, honey
Mouth: dry, creamy mousse, med body, med+ acid, long length, med+ flavour intensity, med alcohol, nuts, bread, caramel, ripe red apple, butter, lemon, mineral, oxidized characteristics on finish
All in all: Very good (to outstanding) quality: the wine is complex, with no shortage of expressive aromas on both the nose and palate. The finish persists with hints of tertiary nuttiness and the wine is well-balanced, though the alcohol is slightly imbalanced. Can drink now, but has potential for short-term ageing.
Identity Guess: Premium Vintage Champagne.
Is really: Premium Vintage (2002) Champagne.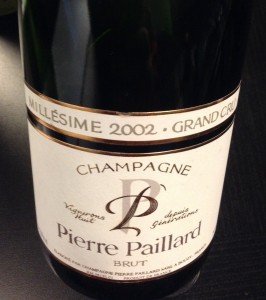 [Tasted during WSET Diploma class – Section 2 – Week 5]
Boom. Vintage Champagne. Done. Next. ($79 only???) Why is this the first wine in our flight? Is it to make the rest taste like water?!
Unmistakably Champagne on the nose, though my classmate got excited when she said that it smelt like one of those miniature Chinese pineapple pastry things, both of us not being able to name what they were actually called. But yes: definitely a marked nutty pastry aroma combined with ripe apple aromas and just mere suggestions to more tropical ripeness, with honey and caramel to boot.
The guess of vintage Champagne was a bit of a gamble. Though I need to further explore the nuances of Champagne and sparkling wine (lol), I did get a bit of an obvious nutty and oxidized sort of finish. I attributed this to age, though I supposed house style could be put into play here, if the wine was matured in oak barrels.
Definitely playful, fun, classic, and a bit more mature and well-rounded from age. A bit more of a grand orchestral number compared to the second wine in our flight. Bubbles weren't noticeably youthful but had a rather quiet finesse, unfortunately losing carbonation much more quickly than the others in the flight. I had this at very good quality, but both the instructor and some classmates had this at outstanding.
Fantastic at $79. Buy it! Then share (with me).
Producer: Pierre Paillard
Designation: Grand Cru
Region: France
Sub-Region: Champagne
Variety: Chardonnay (50%), Pinot Noir (50%)
ABV: 12.5%
Vintage: 2002
Tasted: February 5, 2014
Price: $79