"Embers" – Just Jack: NV Gloria Ferrer Blanc de Noirs
Tasting Note:
Eyes: clear, pale onion skin, bubbles
Nose: clean, med+ intensity, developing, hint yeast, citrus, hint brioche, floral, red apple, hint red fruit, red berry, spice
Mouth: dry, creamy mousse, med+ acid, med body, med alcohol, mineral, med flavour intensity, hint yeast, mineral, citrus, hint red fruit, med length
All in all: Very good quality: a balanced structure supports a fair amount of secondary characteristics. Flavours are intense and present but don't have more than an average length.
Identity Guess: Premium Non-Vintage Blanc de Noirs Champagne.
Is really: Premium Non-Vintage Blanc de Noirs Sparkling Wine from California.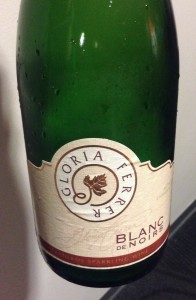 [Tasted during WSET Diploma class – Section 2 – Week 4]
Austere Champagne really does call for the pairing of either the equally austere string-driven royal classical numbers, OR, what I personally deem the quasi royal-ish equivalents of frowned-upon current times. But I'm not Pitchfork, nor am I a person who carries a nice trunk of socially acceptable music around in their knapsack of tricks. So here we are.
This is a bit of a modern twist on a traditional sparkling. Along with the day's lesson (grape varieties in sparkling wine), the copper tones of the wine might as well have summoned a large arrow bordered by 60-watt lightbulbs, with "blanc de noirs" splattered all over its front. Ding ding ding!
Pinot Noir is known for its delicate and elegant personality in its Burgundian still form. But in sparklings, it tends to flesh out the wine, being the powerhouse, compared to the austere and potential for longevity that Chardonnay provides.
The wine was unmistakably traditionally made, but both the nose and palate had a bit more heaviness – the Californian influence contributed even more richness to the fleshy Pinot Noir character. It was still elegant, but less of an extravagant A-list celebrity's dress and maybe more of a relaxed maxi dress beach house sort of way. Violins with a twist, like Just Jack's "Embers".
Producer: Gloria Ferrer
Designation: Blanc de Noirs
Region: United States
Sub-Region: Carneros, California
Variety: Pinot Noir (92%), Chardonnay (8%) – according to Tom Stevenson's World Encyclopedia of Champagne & Sparkling Wine
ABV: 12.5%
Vintage: NV
Tasted: January 29, 2014
Price: $40