"Applause" – Lady Gaga: NV de Venoge "Vin du Paradis" Champagne
Tasting Note:
Eyes: clear, med lemon, bubbles
Nose: clean, med+ intensity, developing, yellow apple, melon, toast, biscuit, moss, citrus, honey, mineral, hint nuts, funky, mushroom
Mouth: off-dry, creamy mousse, high acid, med body, med alcohol, med+ flavour intensity, yellow apple, citrus, toast, biscuit, melon, moss, med+ finish
All in all: Very good quality: though the complex flavours can appear shy at first, they persist on the palate with balance. Drink now; not suitable for ageing.
Identity Guess: High-priced Non-Vintage Sparkling Vouvray from Loire, France.
Is really: Premium Non-Vintage Champagne from France.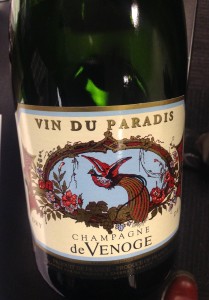 [Tasted during WSET Diploma class – Section 2 – Week 3]
Me and a friend are going to see Lady Gaga in May when she comes to Vancouver. We may or may not have a wine party either before or after said concert, and we may or may not open this to pair with the current royal fanfare of her highness. But we're poor so maybe not. We'll probably stick to Cava and fancy beer.
Riiiight.
My friend promises me that the concert will be fun, but all I can do is caress my liver while it cries in foreseen dread. Oh well!
You've gotta pair the song to something as noble as Champagne along with the tension of high acidity. What's unique about this wine – and perhaps why I pegged it as sparkling Vouvray – is the bit of residual sugar and ripeness that the wine has. Despite the flashy austerity, there is an extravagant display of riper pomaceous fruit along with moderate autolytic tones, a hint of honeyed nuts, and just a hint of funky mushroom and moss. In other words – a dress that Lady Gaga has yet to wear.
I'm not used to a Champagne that's higher in residual sugar like some people aren't used to Lady Gaga – this wine has 20 g/L of sugar, where the standard for the typical Brut style usually contains 0-12 g/L. Perhaps this can serve to be an alternative to the more mass-produced brands of Champagne for the younger crowd that has a sweeter tooth. A-P-P-L-A-U-S-E. D-E-V-E-N-O-G-E. Ha!
Ironically, Jeff Koons, who the song refers to (and with whom Lady Gaga collaborated for her latest album), crafted the latest weird pregnant woman balloon container thing (that you might have seen) for Dom Pérignon's vintage Rosé Champagne. The same man has designed the label for Mouton-Rothschild (vintaged 2010), which is one of Pauillac's first growths in Bordeaux. And which sells for a whole dungload of dollars.
Jesus. Talk about money and royalty.
Producer: de Venoge
Designation: "Vin du Paradis"
Region: France
Sub-Region: Champagne
Variety: Pinot Noir (60%), Chardonnay (20%), Pinot Meunier (20%) – according to Christie's World Encyclopedia of Champagne & Sparkling Wine
ABV: 12%
Vintage: NV
Tasted: January 22, 2014
Price: $69