"Love Shack" – The B-52s: NV Dr. Loosen Sparkling Riesling
Tasting Note:
Eyes: clear, med lemon-green, bubbles
Nose: clean, med+ intensity, youthful, rubber, petrol, mineral, citrus, stone fruit, peach, apricot, apple, apple skin
Mouth: off-dry, creamy mousse, med+ intensity, med body, med alcohol, med+ acid, citrus, rubber, mineral, apple skin, stone fruit, med length. stony finish
All in all: Good quality: the sweeter and simple ripe stone fruits are balanced well with the bright acid, bubble, and Riesling mineral tones. Average length. Drink now, not suitable for ageing.
Identity Guess: Mid-priced Non-Vintage New World sparkling wine.
Is really: Mid-priced Non-Vintage Deutscher Sekt from Germany.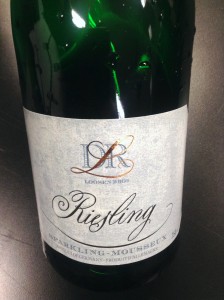 [Tasted during WSET Diploma class – Section 2 – Week 4]
Disclaimer: I liked this. Bite me.
This was the third wine in our six-wine flight and it was obvious that the first two were a traditionally-made blanc de noirs and a traditionally-made blanc de blancs. This class was all about sparkling grape varieties, so I couldn't help but think this might have been a Pinot Meunier-dominated blend from both the wine flight continuity and the overt "fruitiness" that Meunier is supposedly known for.
But on second sniff, mineral and petrol notes looked at me with keen judge-y criticism along with hands on their hips as they flew into my nose, and aromas of stone fruit soon joined the mix. Obviously not Pinot Meunier, obviously perhaps Riesling, but from where? There's hardly any sparkling Riesling in the market, though Australia comes to mind – and Germany completely slipped my brain, since there are literally maybe like five sparkling wines in the public market in BC for sparkling German wines, and people don't take half of them very seriously. Hence the vague New World guess.
Riesling made sense, but the reveal of (Deutscher) Sekt made even more sense. The wine strikes a fine balance here, with Riesling character and sweetness balanced out by acidity and bubbles, with a nice stony finish. The flavours were uncomplicated and direct, which is really all you need for the kind of wine that pairs with "Love Shack". Fun and bubbles in a glass, with a hint of the petrol from the Chrysler that's as big as a whale, and is about to set saaaiiiiiil.
Producer: Dr. Loosen
Designation: Trocken
Region: Germany
Sub-Region: Mosel
Variety: Riesling
ABV: 12%
Vintage: NV
Tasted: January 24, 2014
Price: $19