Albus Dumbledore: NV Jacquesson Cuvée 736 Champagne Extra Brut
Tasting Note:
Eyes: clear, med gold, bubbles
Nose: clean, pronounced intensity, developing, ripe green apple, brioche, mineral, bread, cashew, white nuts, citrus, caramel, hint honey, hint mushroom, spice
Mouth: dry, creamy mousse, high acid, med body, pronounced flavour intensity, med alcohol, long length, ripe green apple, citrus, white nuts, mineral, flint, honey, mushroom
All in all: Very good quality: the expressive, oxidative, and complex flavours last long on the palate. The acid sticks out in the slightest. Can drink now, but has potential for short-term ageing.
Identity Guess: Premium Non-Vintage Champagne from France.
Is really: Premium Non-Vintage Champagne from France.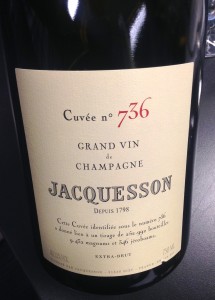 [Tasted during WSET Diploma class – Section 2 – Week 3]
This wine was super unique for its type. That means a lot for Champagne, which already sets the gold standard for orgasmic sparkling wine. So it's kind of like saying "this Ferrari was slightly different and weird!" or "there was something about my new diamond bracelet that was sort of cool but strange!" except less douchey.
This was unmistakably Champagne, if not a very well-made Old World sparkler: autolytic characteristics danced around the sword of piercing acidity while minerality drifted about the tongue, but the wine's intrigue stems from its subtle Fino sherry-like whispers of oxidation. It's definitely not even half the savoury brininess that Fino can be (and God forbid had I described this wine as "briny" in class, as I probably would've been stoned to death), but there was a marked nutty character which came from the use of oak by the producer, which allowed the wine to hang out with some oxygen molecules.
The nuttiness is not so much of an intense almond or brown nut character that you might get from something like an oloroso sherry or an aged white burgundy – it's more of an elegant and slightly salted white nut sort of melody that gives the wine a bit of a quiet whimsy. So if Albus Dumbledore were a wine, he would be this one. It's definitely not a Champagne that turns heads due to its commanding animal-skin drum beats, but rather gets attention from some seemingly mystical otherness.
Producer: Jacquesson
Designation: Cuvée 736
Region: France
Sub-Region: Champagne
Variety: Chardonnay (53%), Pinot Noir (29%), Pinot Meunier (18%) – but interestingly enough, Christie's World Encyclopedia of Champagne and Sparkling wine lists the same cuvée number as a different mix: Chardonnay (47%), Pinot Noir (30%), Pinot Meunier (20%)
ABV: 12%
Vintage: NV
Tasted: January 22, 2014
Price: $65