Effie Trinket, from the Hunger Games: NV Diebolt-Vallois Champagne Brut Rosé
Tasting Note:
Eyes: clear, med salmon, bubbles
Nose: clean, med intensity, developing, smoke, hint yeast, mineral, flint, dried red fruits, raspberry, cherry, hints of toast and yeast
Mouth: dry, creamy mousse, med+ body, med alcohol, high acid, med+ flavour intensity, med+ finish, nuts, raspberry, dried red fruits, yeast, brioche, cherry
All in all: Very good quality: the wine's flavours are complex, and the structural components are well-balanced. Though the flavours last on the palate, the flavours aren't particularly expressive on the nose. Drink now; not suitable for ageing.
Identity Guess: Premium Rosé Champagne from France.
Is really: Premium Rosé Champagne from France.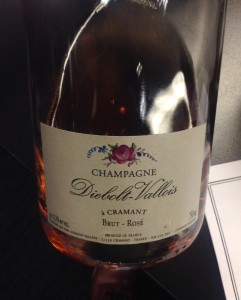 [Tasted during WSET Diploma class – Section 2 – Week 3]
After having watched the Hunger Games trailer for the first time ever (and I don't recall much of the moment), I remember being intrigued by the contrast of Effie's pink and flamboyant persona to everything else in the reaping scene. At first glance, there's something eerie and almost disturbing about her. I thought the books would give me more insight on Effie, but it's the other way around – they did a really good job of fleshing out her character in the films.
Like Effie, Rosé Champagne is a cryptic pink in a sea of others. Rosé is hardly even mentioned during any levels of WSET, so Champagne versions are even more peculiar. I wonder if the dash of hue is generally viewed as more extravagant in some areas – or perhaps it's generally viewed as unserious, much like the opinion of the champenois on these particular wines.
The wine had a delicate nose of mineral, flint, dried red fruits, and hints to autolysis that were generally more expressive on the palate. The acid was soprano high yet balanced, and the flavours were long-lasting. I enjoyed it, but it was almost too delicate for my tasting.
The phenolics of the red grape skins in rosé Champagnes apparently bind with molecules that contribute to autolytic character; therefore, such bready and toasty aromas are deactivated. This explains my confusion over the constant breadless traditonally-made rosé sparklings. It all makes sense now!
I'm still intrigued. There's only one Effie but there are like a million more of these rosé Champagnes.
Producer: Diebolt-Vallois
Designation: Brut
Region: France
Sub-Region: Champagne
Variety: Pinot Noir (63%), Chardonnay (27%), Pinot Meunier (10%) – according to Christie's World Encyclopedia of Champagne & Sparkling Wine
ABV: 12.5%
Vintage: NV
Tasted: January 22, 2014
Price: $88