Five-cent candy: NV Yellow Tail Bubbles
Tasting Note:
Eyes: clear, pale lemon, bubbles
Nose: clean, pronounced intensity, youthful, candied pear, pear drop, ripe citrus, orange, candied fruit, ripe, gummy bears, floral
Mouth: dry, med- body, med- acid, med- alcohol, short length, pronounced flavour intensity, candied green fruit, candied pear, hint mineral, gummy bears, ripe citrus, delicate mousse
All in all: Acceptable quality: though the wine has expressive flavours, their sweet simplicity doesn't have the acid to support it, nor the persistence. Drink now: not suitable for ageing.
Identity Guess: Inexpensive Non-Vintage Prosecco from Italy.
Is really: Inexpensive Non-Vintage sparkling wine from Australia.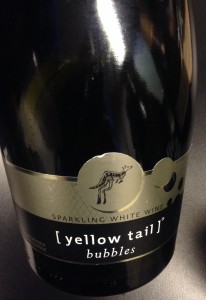 [Tasted during WSET Diploma class – Section 2 – Week 2]
The third wine in our flight was an obvious shift in quality and style. Whereas the first two wines were goddesses of sparkle and shimmer, this wine had a candied and gummy nose complete with a ripe palate without enough brightness. And it sort of retained a bit of soapy head after it was poured which was strange. But I like strange things, so I was intrigued.
Perhaps experience is finally on my side, because I thought this was of very good quality in WSET Advanced class a year and a half ago. Oy. I still stand behind the fact that it's not horror-scream-bad, but clunky enough to elicit a raised eyebrow and overturned wine glass. I was simultaneously surprised and not surprised at the reveal. It's the Facebook equivalent of looking at your year-old status updates and realizing how dumb you were. Sort of.
Originally I thought this was Prosecco (along with the classmate who read his notes out loud, and I'm sure others thought so as well) because of more playful fruit. Too playful, in this case, to the point of being almost off-dry. I'm being nice, because some classmates said it was soapy, unnecessarily earthy, and flat.
Gummy, cheap, and it'll do the trick – but I'd stretch to something with a bit more acid or depth.
Producer: Yellow Tail
Designation: Bubbles
Region: Australia
Sub-Region: N/A
Variety: ?
ABV: 11.5%
Vintage: NV
Tasted: January 15, 2014
Price: $14